Affordable Luxury In SW Calgary: Encore Is Featured In NextHome
/
/
Affordable Luxury In SW Calgary: Encore Is Featured In NextHome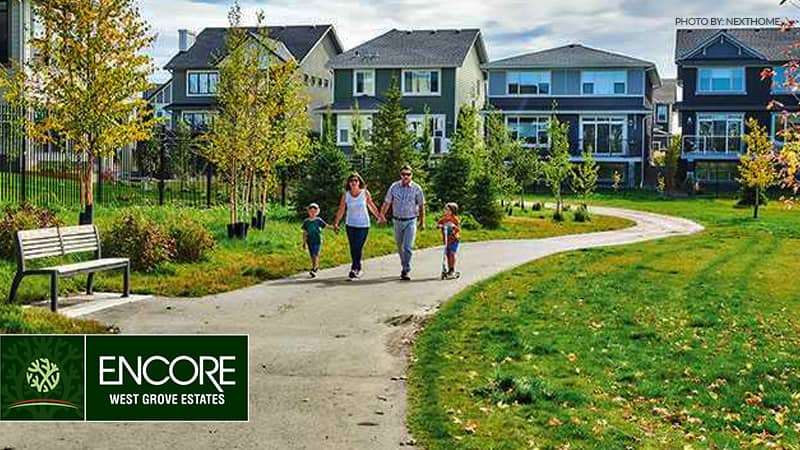 Encore at West Grove Estates provides an amazing opportunity for homebuyers to move into one of Calgary's most sought-after neighbourhoods, West Springs. Encore perfectly incorporates affordable luxury living within their home designs and is well recognized as an innovative, brilliantly designed community according to an article published this month by NextHome. Located on the west end of Calgary, Encore at West Grove Estates is an enviable location nestled between the Rocky Mountains and the bustling downtown core of the city. With some of Calgary's best amenities located right within the community, you can enjoy uncompromising value and high quality living in Encore.
Encore West Grove Estates: Where Luxury Meets Affordability
The community of Encore is built on a strong foundation of parks, amenities, and active family spaces to accommodate families young and old. This is just one of the reasons why the community of Encore is so desirable. Residents have access to over 7.5 acres of green space including parks for children and recreational pathways throughout the community. Encore at West Grove Estates offers a tremendous opportunity for residents to find the perfect work-life balance and the affordable luxury is attractive to active working professionals, young families, and Calgarians focussed on a recreational lifestyle.
Encore's close proximity to schools (public and private), restaurants, and world-renowned fitness facilities is also appealing to those exploring the neighbourhood. The renowned WinSport Canada Olympic Center is just a ten-minute drive away, providing access to the ski hill and ice rinks in the winter and world-class mountain biking in the summer. WinSport also features one of seven Skyline Luge tracks in the entire world, a fun activity that can be enjoyed by the whole family. In addition, the community of West Springs also provides easy access to Paskapoo Slopes which offers extensive trail systems for trail running, mountain biking, and for families looking to explore some of Calgary's best inner-city nature walking trails.
Cedarglen Homes, the exclusive builder in Encore, offers stylish and innovative designs and provides homebuyers the opportunity to customize their new build in Encore to suit their personal design esthetic and lifestyle. NextHome features Antonio and Michelle Gagliardi, recent buyers in Encore. The Gagliardis are a family looking for a forever home, and they chose Cedarglen Homes in Encore because "Encore offered a middle ground for us in terms of luxury and affordability," Antonio says. "Other builders in the area weren't nearly as flexible with floor plans and finishes, which was very important to us." As young professionals working downtown, Antonio and Michelle were attracted to the easy accessibility to the downtown core, but also loved the community's close proximity to Calgary's best schools, parks, and the mountains.
Encore is renowned for bringing together the classic West Grove Estate designs from the sister community, The Rise at West Grove Estates, with a modern twist that is perfectly suited for every family. For the first time, Cedarglen is now offering three-story home designs as well as a Farmhouse and Transitional design that reflect more contemporary tastes. Every homebuyer will be able to check off all of their wants and needs when it comes to building their dream home with Cedarglen Homes. With homes starting from the mid $700,000s, families and working professionals can enjoy the luxury appointments of a Cedarglen home and the amazing amenities that come with living in the SW community of West Springs.
Encore West Grove Estates: A Blossoming Boutique Community
Encore is just the latest phase of the West Grove Estates development, with less than 9 lots remaining, and with the attractive home prices in such a sought-after Calgary community, these lots are in high demand. This idyllic neighbourhood is filled with meticulously crafted, customized estate and semi-estate homes reflective of the quality of which our award-winning building partner, Cedarglen Homes, is known for and as recognized by NextHome.
To explore your options for homeownership in Encore at West Grove Estates and what the community has to offer for your family, call 1-403-250-5650 or fill out the contact form. There's no better time to move into a new semi-estate home by Bri-mor at Encore in West Grove Estates at West Springs in SW Calgary.
FAQ
Q: Where is Encore at West Grove Estates located?
A: The semi-estate homes in Encore are bounded by Bow Trail SW to the south and 11 Avenue SW to the north.
Q: How much are the semi-estate homes in Encore, West Springs?
A: Our semi-estate homes start in the mid $700s and reflect the quality standards our builder partner, Cedarglen Homes, is known for.
Q: How far of a drive is it from West Springs to downtown?
A: One of the best features of this new neighbourhood in West Springs is its close proximity to the downtown core being only a short 15-minute drive.
Semi-estate homes built by an award-winning builder in the highly sought-after SW Calgary community of West Springs. That's what you get when you choose Encore at West Grove Estates. Our homes are painstakingly crafted with elegance and quality at the forefront of everything we do. Because in the end, you deserve a home built just the way you want.
Get in Touch to Take the First Step Towards Finding Your Dream Home