West Springs Bus/LRT
You'll have no problem utilizing Calgary Transit while living in West Springs. Situated close to numerous bus stops and the 69 Street CTrain station, affordably getting around the city will be a breeze.
With Encore at West Grove Estates being only a few minutes walk from 85 Street and the several bus stops which dot it, you'll be able to get wherever you're going quickly and conveniently. The 69 Street and Sirocco CTrain stations both feature park and ride options for those who would like to avoid the high cost of downtown parking. Both stations have also seen an increase in the number of stalls that are available over the past year, making it easier than ever for commuters to take advantage of Calgary's convenient LRT system.
For more info on the transit and LRT options in West Springs, feel free to visit Calgary Transit for route, schedule, and fare information.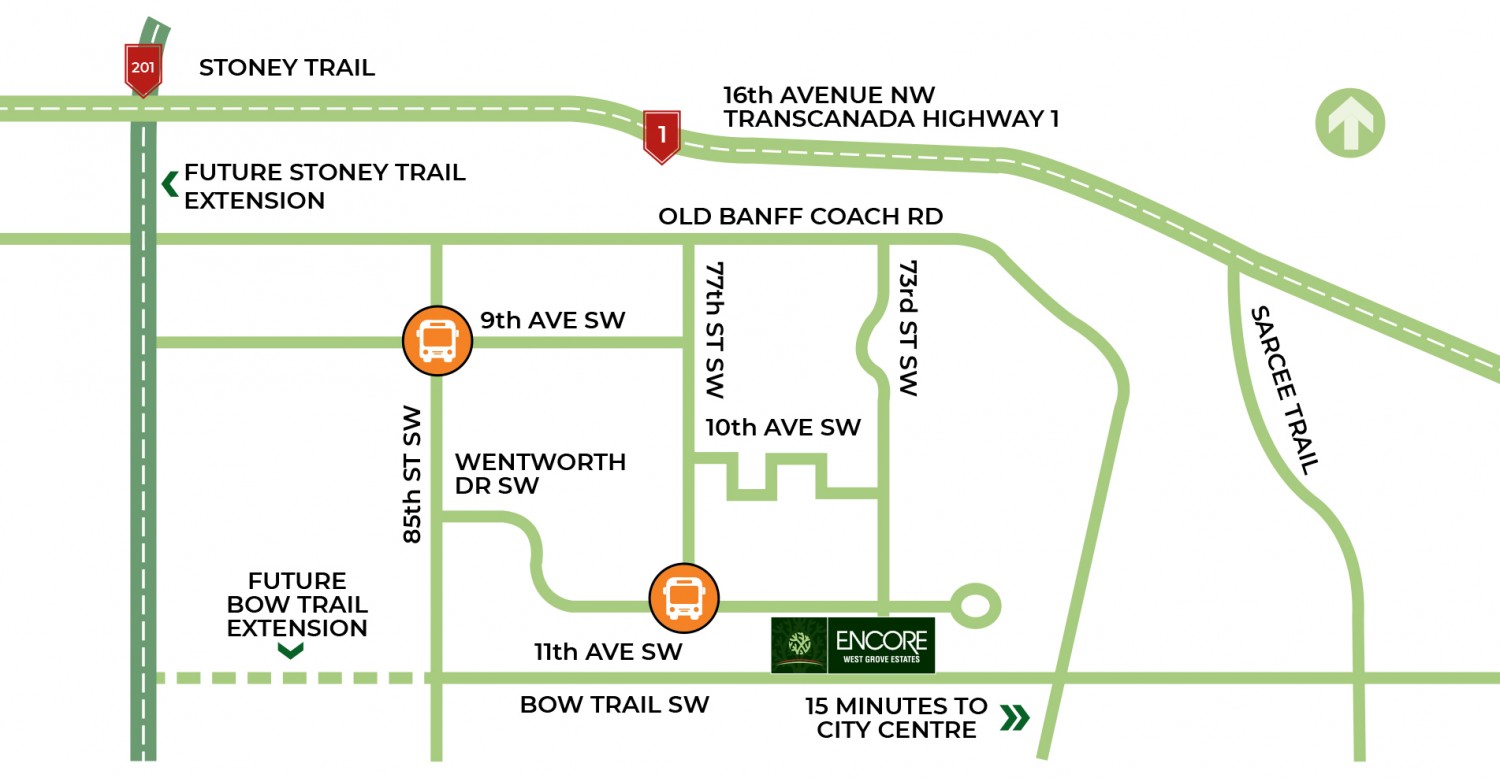 What West Grove Estates Owners are saying
"We recently got married and living in a condo wasn't what we wanted for the long-term. We are both very active and love being in the mountains. We wanted our first home to be extremely accessible to the mountains while maintaining easy access to downtown and to all the amenities..."

- Carolyn & Steve
"We had moved here from Denver and were looking to build rather than buy a resale home. We liked the idea of a new community and growing with the neighborhood. We really like the access to amenities such as Springbank rink, COP, Westside Rec Centre, the mountains as well as schools..."

- Sharan & Vic
"The main catalyst to getting a new home is more room! We live in a 2 bedroom condo with 4 girls, age 6, 8, 8, and 12! So no puppy until we move to our new home! Cedarglen has a very well-planned approach to work making it easy for customers like us to make choices from house lot, house plans, and all the customizations we could ever imagine doing with a house builder. It has also been a very pleasant experience working with their entire team, they were able to make things very flexible with our very hectic family schedule..."

- Colin & Cindy
"For the first time, our girls can ride their bikes and play outside in our community. We enjoy the sense of peace, and living next to really great neighbours who watch out for each other which we didn't experience living in the inner city. The stores and restaurants in the area offer a great selection, whether it's grocery shopping or a night out!"

- Jennifer & Cameron
"We have a growing family and wanted to be in a community that was family-oriented with great schools. It's rare that you can find a new development in such a great location within the city. We like the greenspace and that there are pathways within the community connecting neighbouring areas. Having groceries and schools right in the community is wonderful!"

- Kesa & Darren
"...Customization of colors, style, and more importantly how we wanted our floor plans customized to our family needs and wants was important to us. Cedarglen was able to accomplish all of the above at reasonable costs for the customizations. We were attracted to Encore due to schools in the area, shopping, West Side Recreation Centre, green spaces, and outdoor family amenities. The commute to downtown and the expanded Stoney Trail make it easier access to the Southside and close to the mountains for hiking and skiing. Encore is a truly great family and friendly orientated neighbourhood community with a lot of activities. There are lots of parks, outdoor recreation facilities, and walking/jogging trails"

- Colin & Cindy
Semi-estate homes built by an award-winning builder in the highly sought-after SW Calgary community of West Springs. That's what you get when you choose Encore at West Grove Estates. Our homes are painstakingly crafted with elegance and quality at the forefront of everything we do. Because in the end, you deserve a home built just the way you want.
Get in Touch to Take the First Step Towards Finding Your Dream Home