Building A New Home In Encore? Consider These 2022 Kitchen Trends
/
/
Building A New Home In Encore? Consider These 2022 Kitchen Trends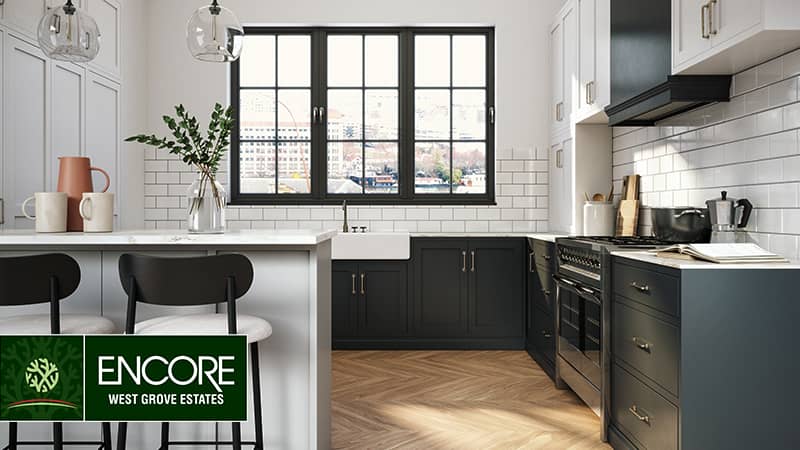 Located in one of Calgary's most beautiful neighborhoods offering stunning mountain views and easy access to Calgary's most upscale amenities lies West Grove Estates. This sought-after community is continuously growing to allow for more Calgarians to appreciate the amazing features it has to offer such as walking trails, parks, and easy access to Highway 1 for all of those who enjoy adventuring in the mountains. Encore at West Grove Estates partners with Cedarglenhomes to offer new builds that can be customized to your personal preferences in this new neighborhood. One of the best customizations you can make to your home revolves around your kitchen. It is where you prepare your meals, entertain friends and family, and may serve as a temporary office until COVID-19 ends. For the baker, the cook, and the entertainer, here are the top 2022 kitchen trends to consider when building your new home.
No one can fully predict what the future holds, but interior designers and homebuilders do have a pretty good sense of what to expect when it comes to kitchen trends in the next coming year. Here are a few trends to consider when designing your new build in West Springs newest neighborhood:
Say Hello To Vintage
Vintage pieces have gained in popularity as they offer an unexpected layer of visual interest in the kitchen. A vintage stove or fridge can be a conversation starter and offers a unique appearance to your kitchen that will make it feel a bit less bland than traditional stainless steel appliances. Another great option to add something special to your kitchen would be by opting for a vintage farm table as an island instead of a traditional built-in to make your kitchen not feel as visually "heavy" while still adding extra space for prep and seating.
Be More Open With Your Shelving
Removing upper cabinets and bulky soffits can dramatically open up your space making it feel airier and larger. If you have a lovely dish set that you always seem to have tucked hidden away, open shelves will allow you to showcase them every day making them an easy decor touch in your kitchen. As an added bonus, you will also be able to access your kitchenware more easily.
Customize Your Appliances
One of the biggest upcoming trends for 2022 is customized appliances in the kitchen. From colored appliances to custom paneling, these design options will give your kitchen a much more organized and sophisticated appearance. Items such as ovens, wine coolers, fridges, and microwaves can be expertly installed into the cabinets to give a great finish to any room.
Green Marble
The colour green is making a huge comeback this year especially when it comes to countertops. If you are looking for a kitchen countertop colour that is attractive and unique, but one you won't regret down the road, this is the perfect addition to your kitchen. The earth-inspired green not only compliments various shades of wood, but it is also a hue that can go from contemporary or retro, to a farmhouse. These countertops are a great way to make a statement in the kitchen but in a subtle way.
Minimal Cabinet Hardware
There is a move towards minimal or no cabinetry hardware in this recent year. Instead, designers and homeowners are opting for sleeker, minimal designs such as pull tabs that are barely visible or notches in the side of doors as finger pulls. This look lends itself more to the post-modern and organic kitchen aesthetic, so as not to have too much of a metallic appearance that could interfere with a nature-inspired aesthetic. If there is hardware visible, it is trending more towards a flat black iron or brushed steel look.
Live In Luxury In West Springs Calgary
2022 kitchen design trends will build on the momentum created by last year's trends including an emphasis on elevated built-in designs, organic accents, and vintage-inspired colours and appliances. There is a move away from traditional white and super modern kitchen designs, instead of moving towards more of a natural, homier feel. This year's designs complement the simple luxury of organic style, while increased functionality becomes a big goal for upgrades and new builds.
Whether you are looking to build a new home or for a quick possession home in Encore, this idyllic neighbourhood is filled with meticulously crafted, customized estate and semi-estate homes reflective of the quality Cedarglen is known for. With beautiful views of the mountains, an array of green spaces, and close proximity to some of Calgary's best amenities, West Grove Estates offers a beautiful home for every family. To explore your options for homeownership in Encore at West Grove Estates, call 1-403-250-5650 or fill out the contact form. There's no better time to move into a new semi-estate home by Bri-mor at Encore in West Grove Estates at West Springs in SW Calgary.
FAQ
Q: Where is Encore at West Grove Estates located?
A: The semi-estate homes in Encore are bounded by Bow Trail SW to the south and 11 Avenue SW to the north.
Q: How much are the semi-estate homes in Encore, West Springs?
A: Our semi-estate homes start in the mid $700s and reflect the quality standards our builder partner, Cedarglen Homes, is known for.
Q: How far of a drive is it from West Springs to Canmore?
A: One of the best features of this new neighbourhood in West Springs is its close proximity to the mountains. It is only a 45-minute drive to Canmore and a 1 hour-10 minute drive to Banff National Park.
Semi-estate homes built by an award-winning builder in the highly sought-after SW Calgary community of West Springs. That's what you get when you choose Encore at West Grove Estates. Our homes are painstakingly crafted with elegance and quality at the forefront of everything we do. Because in the end, you deserve a home built just the way you want.
Get in Touch to Take the First Step Towards Finding Your Dream Home