Building Sustainability With Cedarglen Homes In Encore At West Grove Estates
/
/
Building Sustainability With Cedarglen Homes In Encore At West Grove Estates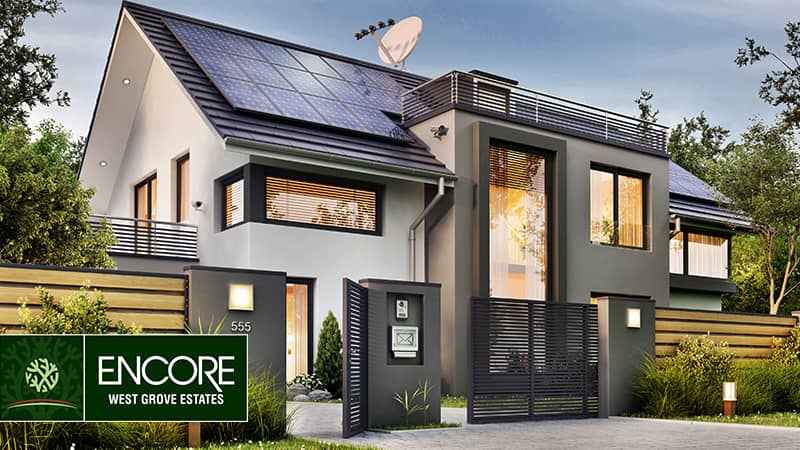 Here is another good reason to build your new home in Calgary with Cedarglen Homes in Encore at West Grove Estates: sustainability and energy efficiency. In addition to possessing exceptional build quality, your new semi-estate home can also help you save on energy costs and reduce your carbon footprint. And given the increasing popularity of energy-efficient homes, your residence could be worth more when you are ready to sell it.
With Cedarglen Homes, your new semi-estate home will come equipped with climate-friendly features such as triple-pane insulating windows, R50 attic insulation, a high-efficiency furnace, and more. Our builds consistently top the government-backed EnerGuide standard, an official set of criteria that evaluates the energy efficiency and performance of a home.
Does the idea of increasing the value of your new home while cutting on energy costs and minimizing your impact on the environment sound attractive to you? An Encore semi-estate home in West Grove Estates, Calgary, can make this idea a reality. Let us get started with your new build with Cedarglen Homes today.
Sustainability Features Of A Cedarglen Semi-Estate Home In Encore At West Grove Estates
Our award-winning builder, Cedarglen Homes, knows that a good home is not just defined by its craftsmanship and curb appeal. As climate change becomes increasingly difficult to ignore, homes in 2021 need to be more than a family refuge; they need to provide elevated living standards without impacting the environment.
This mission is at the centre of every Cedarglen build. Our Encore semi-estate homes are packed with features that increase your quality of life while simultaneously adhering to the most rigorous energy guidelines. In any Cedarglen home, you will find:
Triple-pane insulating windows: Triple-pane windows are a mainstay in every sustainable home. Compared to double-pane windows, triple-pane windows keep your home warmer in the winter and cooler in the summer. Your home will be less reliant on a central air ventilation system working double-time to keep it at room temperature.
R50 attic insulation: Cedarglen attics provide some of the best insulation around. An R-value of 50 is well beyond the insulation level of most attics. Just like triple-pane windows, thick insulation keeps your home comfortable during extreme weather conditions.
Sealed ceiling: By preventing air from getting into the attic, your Cedarglen semi-estate home keeps its warmth during the coldest winter months.
Spray foam insulation: Cedarglen Homes use spray foam to seal all potential openings, such as rim joists and door and window gaps. Spray foam adds yet another layer of insulation to keep your home comfortable without driving up your energy bills.
Airtight electrical boxes: Electrical boxes are often the source of cold air drafts. By outfitting them with self-sealing gaskets, Cedarglen electrical boxes are fully airtight and will prevent cold exterior air from infiltrating your home.
R20 basement exterior wall: Like your attic, your basement is well-insulated. Most homes have a basement insulation value between R11 to R15. Cedarglen Homes offers R20 insulation.
Tankless water heater: Unlike traditional water heaters that constantly use energy to keep a storage tank hot, tankless water heaters heat up cold water on demand. Because tankless water heaters only heat up water when needed, they are more gentle on your energy bills.
95% high-efficiency furnace: Most furnaces are only 80% efficient, which means they expel 20% of their energy as exhaust. A 95% high-efficiency furnace only releases 5% of its energy as exhaust. A high-efficiency furnace not only allows you to save on energy but is also better for the environment.
Energy Star-rated heat recovery ventilator (HRV): HRVs expel stale indoor air outside and funnel in fresh air that is warmed by a heated aluminium core before being delivered to the rest of the home. An Energy Star-rated HRV uses significantly less energy in the process than non-rated brands.
Upscale Comfort And Sustainability In New Calgary Homes
Cedarglen Homes in Encore at West Grove Estates are not just popular for their high-calibre assembly and modern aesthetics, but for their energy efficiency as well. Sustainable homes are among the hottest commodities on the housing market, thanks to their lower energy consumption and minimal carbon footprint. The fact that energy-efficient homes possess higher resale value on average further adds to their desirability.
Are you looking to build a sustainable haven for your family in West Springs, Calgary? Connect with Bri-mor Developments and Cedarglen Homes today by calling (403) 250-5650 or filling out the online contact form.
FAQs
Q: How much are the semi-estate homes in Encore, West Springs?
A: Our semi-estate homes start in the mid $700s and reflect the quality standards our builder partner, Cedarglen Homes, is known for.
Q: How do I visit a showhome?
A: Click on this link to set up a private showing.
Q: What amenities are offered in Encore at West Grove Estates?
A: The community is close to multiple restaurants, educational institutions, health, fitness, and recreation centres, groceries, entertainment facilities, and more.
Semi-estate homes built by an award-winning builder in the highly sought-after SW Calgary community of West Springs. That's what you get when you choose Encore at West Grove Estates. Our homes are painstakingly crafted with elegance and quality at the forefront of everything we do. Because in the end, you deserve a home built just the way you want.
Get in Touch to Take the First Step Towards Finding Your Dream Home