Building Your Dream Home In Encore? Explore These Hot Colour Trends For 2022
/
/
Building Your Dream Home In Encore? Explore These Hot Colour Trends For 2022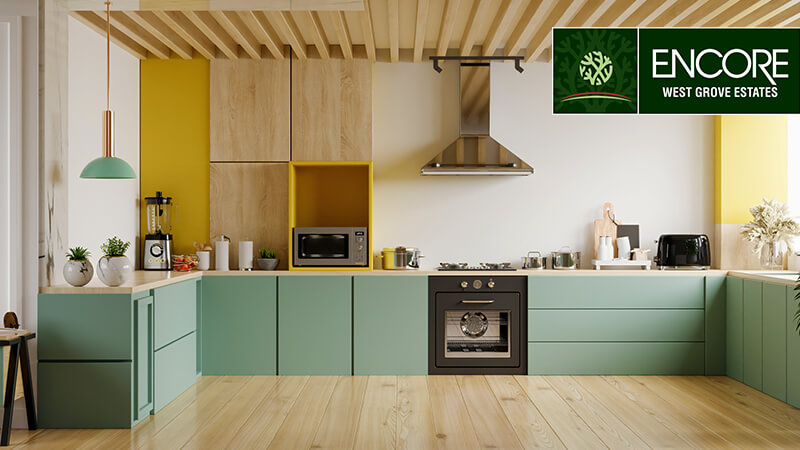 West Springs is a community located on the edge of the west end of the city providing easy access to the mountains, downtown Calgary, and a wide variety of other amenities nearby. Encore at West Grove Estates offers top-quality, superior Cedarglen homes that can match your style, are energy efficient, and can be customized to your personal preferences. When building your new home, one of the most challenging decisions is deciding the colour scheme. Luckily, leading design firms and paint brands make it easy to start down the path to a colourful future with their indispensable knowledge. For those colour enthusiasts, looking for inspiration, here are a few of the shades and tones that will dominate in 2022.
Warm And Summery Tones
Yellow, tangerine, and pale pinks and purples were once thought of as tacky or childish, but are now making their way into even the most sophisticated interiors in a very grown-up way. In their more muted forms, these colours add a subtle pop of colour to any space in your home. Many people and home designers are now opting for richer tones that inject positivity and warmth into their homes, bringing that summer feeling inside.
Familiar Blues
Blue always seems to make its way into one of the top colour trends every year. It is a very grounding and familiar colour that we are easily drawn to. This year, in particular, deep blue tones seem to be the most on-trend. These dark blues are being embraced throughout an entire room to create a dramatic, cocooning effect instead of just being featured on one wall or with furniture. The boldness and warmth found in blue will continue to be prominently found in new-builds to provide striking backdrops for paintings and artwork.
Nature Inspired Greens
2020 and 2021 home builds sought most of their inspiration from nature and will continue to do so in 2022. The colour green harnesses the power of growth in nature and with the use of darker shades, you will evoke feelings of rest, reassurance, and security. It has been an incredibly powerful colour to put the mind at ease, this is why it is on trend again in 2022 as people seek to create a calm atmosphere in their homes.
Back To The 70s
Move over grey, these new earthy tones are taking over cool neutrals. The once shunned beige and warm tones such as terracotta are now making a comeback making homes feel more comforting and inviting. The 70s vibe of orangey-tones shades will liven up your home adding a pop of sunlight colour which is especially needed during Calgary's long cold winters. Rich brown and caramel colours match perfectly with bolder pops of pink and orange and we are here for it! As long as the shag rug carpets stay firmly in the past, embrace the 70s colour palette to give your home a retro feel to compliment your modern home.
Live In Luxury In One Of Calgary's Newest Neighbourhoods
It is quite obvious that the colour trends for 2022 reflect the need for spaces to feel cosier, inviting, and warm. Knowing where to start finding the right hues for your home is always the hardest part when building, but it can be fun and exciting too. Grey is becoming a neutral of the past and is being replaced by warm green, and yellow tones with some 70s inspiration coming back as well. When you want to spruce up your interior, these home decor colour trends will give you fresh colour inspiration that you need to give your interior a bold, warm look.
Whether you are looking to build a new home or for a quick possession home in Encore, this idyllic neighbourhood is filled with meticulously crafted, customized homes reflective of the quality Cedarglen is known for. With beautiful views of the mountains, an array of green spaces, and close proximity to some of Calgary's best amenities, West Grove Estates offers a beautiful home for every family. To explore your options for home ownership in Encore at West Grove Estates, call 1-403-250-5650 or fill out the contact form. There's no better time to move into a new semi-estate home by Bri-mor at Encore in West Grove Estates.
FAQ
Q: Where is Encore at West Grove Estates located?
A: The semi-estate homes in Encore are bounded by Bow Trail SW to the south and 11 Avenue SW to the north.
Q: How much are the semi-estate homes in Encore, West Springs?
A: Our semi-estate homes start in the mid $700s and reflect the quality standards our builder partner, Cedarglen Homes, is known for.
Q: How far of a drive is it from West Springs to Canmore?
A: One of the best features of this new neighbourhood in West Springs is its close proximity to the mountains. It is only a 45-minute drive to Canmore and a 1 hour-10 minute drive to Banff National Park.
Semi-estate homes built by an award-winning builder in the highly sought-after SW Calgary community of West Springs. That's what you get when you choose Encore at West Grove Estates. Our homes are painstakingly crafted with elegance and quality at the forefront of everything we do. Because in the end, you deserve a home built just the way you want.
Get in Touch to Take the First Step Towards Finding Your Dream Home