Buy Or Build: What Type Of Home In Encore Is Right For Me?
/
/
Buy Or Build: What Type Of Home In Encore Is Right For Me?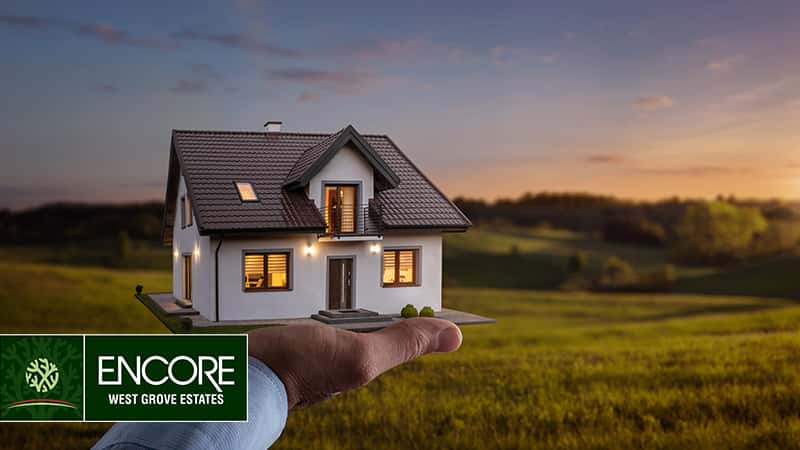 Choosing to live in the highly sought-after community of West Springs in Calgary is a great decision. The beautiful neighbourhood of semi-estate homes in Encore at West Grove Estates offers the best of suburban living, close to downtown and all amenities, and right on the edge of the city with an easy exit for weekend getaways. This new community has become more established and offers new residents two options for homeownership. Buy an existing property through private sale or custom design a new build with our partner, Cedarglen Homes.
The option of building a custom home from the ground up is a popular choice for Calgarians moving into Encore一and for good reason. It allows you to completely customize your new home and make it perfectly suitable for the way you and your family live.
Yet, custom builds are not for everyone. They can be more expensive than existing homes and may take months before they are move-in ready. More budget-minded aspiring homeowners may want to go for one of our existing semi-estates homes available for purchase instead.
Whether you choose to buy or build, you cannot go wrong with an Encore semi-estate home in West Grove Estates, Calgary. Built from the ground up by the award-winning Cedarglen Homes, our creations bring together sophisticated styling, energy efficiency, and rock-solid build quality. Connect with us to explore your Encore homeownership options in West Springs today.
Buying Your Encore Semi-Estate Home In West Springs, Calgary
While many existing Encore residents have custom-built their homes, new buyers in West Grove Estates have more options. Buying an existing home remains the easier option in West Springs. Procuring a home this way comes with two major benefits:
Convenience: Some people do not want to spend any energy working with a builder to design and build their Encore house; they just want to move into a quality home with a well-kept front lawn and landscaped backyard as quickly as possible. If this is something you can relate to, buying a home is the best option. You should be able to move into your Encore semi-estate home within one or two months of your purchase.
Value for money: Constructed by the same award-winner builder, all our homes一custom-built or not一represent the best of what Calgary housing has to offer in terms of function and style. In other words, our homes for sale are just as good as our custom builds while being generally more affordable. This is especially true considering you have more room to negotiate when buying directly from a homeowner.
No real drawback exists when buying an Encore semi-estate home with Bri-mor Developments. Unlike in other neighbourhoods, all the homes for sale in our community have been built recently. You are unlikely to come across problems associated with old houses, such as obsolete appliances and high energy costs, when choosing one of our products. Buying a well-maintained existing home from Bri-mor Developments constitutes an excellent lifestyle and financial decision.
Building Your Encore Semi-Estate Home In West Springs, Calgary
While building your home is, on average, more expensive than buying one, the opportunity to recreate the residence of your dreams is often worth the tradeoff. Some people are so enamoured with the prospect of designing their own home that they are willing to wait for their completely bespoke home to be built.
The benefits of building your home extend beyond the privilege of selecting its features and appearance. These include:
No competition: The real estate market can be quite competitive at times. The hottest commodities often have multiple buyers angling for the best price. Not only does this process add a lot of pressure, you may not get the home you want at the end. Building your home, on the other hand, bypasses this issue completely. That plot of land on which your home is being built is yours alone.
Saving money on renovations: Because you can customize your home the way you want, you probably will not have to do any renovations anytime soon. If no existing house on the market meets your unique design aesthetic or lifestyle needs, you may want to build one to your liking instead of buying one and then spending thousands on renovations.
As for disadvantages, no real cons come to mind aside from larger expenses and longer wait times. Creeping construction costs and extended delays are a rarity when you partner with Cedarglen Homes. Having won consecutive awards in the past decade for their exceptional customer experience, Cedarglen Homes is one of the most trustworthy builders in the region.
Explore Your Semi-Estate Home Options With Bri-mor Developments
Bri-mor Developments, in partnership with our award-winning builder Cedarglen Homes, has a semi-estate home to offer in Encore at West Grove Estates , West Springs, Calgary, for any future homeowner. Those wishing to find the perfect home base for work and play at an exceptional value can choose from existing homes for sale一 reflective of the immaculate attention to design detail and built to the most rigorous of standards. On the other hand, those with the time and the desire to create their own unique semi-estate home have the special opportunity to select their perfect lot and customize almost every feature of their new house.
Will you buy or build? Either way, Bri-mor Developments is looking forward to helping you make the best decision for yourself and walking you through every step of the way. Call us at (403) 250-5650 or fill out the online contact form to get the conversation started.
FAQs
Q: How much are the semi-estate homes in Encore, West Springs?
A: Our semi-estate homes start in the mid $700s and reflect the quality standards our builder partner, Cedarglen Homes, is known for.
Q: How do I visit a showhome?
A: Click on this link to set up a private showing.
Q: Are your semi-estate homes energy-efficient?
A: Our builder Cedarglen Homes uses the EnerGuide rating system to ensure that every home built is as energy-efficient as possible. An EnerGuide evaluation report is provided to you upon purchase of a home.
Semi-estate homes built by an award-winning builder in the highly sought-after SW Calgary community of West Springs. That's what you get when you choose Encore at West Grove Estates. Our homes are painstakingly crafted with elegance and quality at the forefront of everything we do. Because in the end, you deserve a home built just the way you want.
Get in Touch to Take the First Step Towards Finding Your Dream Home