Consider These 14 Things When Building Your New Home In Calgary
/
/
Consider These 14 Things When Building Your New Home In Calgary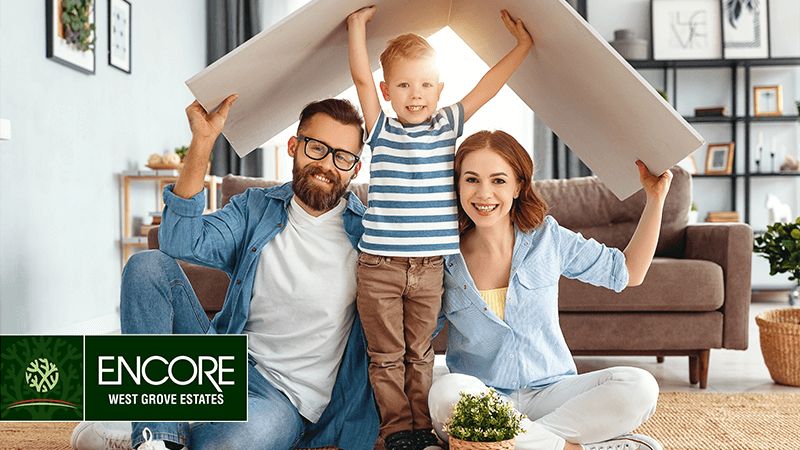 Buying a new home in West Springs, Calgary, with Bri-mor Developments comes with many benefits, not the least of which is the opportunity to completely customize your semi-estate home. In partnership with award-winning home builder Cedarglen Homes, we welcome our future homeowners to fully immerse themselves in their new home's design and building process so they can experience a sense of pride of ownership.
Designing your home in a way that reflects you and your family can be fun, but it is not necessarily simple. Small discussion points like planning electrical outlets, adding motion sensor lights, and installing security cameras are often overlooked. Yet, small considerations such as these will make your home function so much better for you and your family.
To prepare you for our home-building process with Cedarglen, our in-house interior design centre, Studio 81, has compiled a list of 14 things to keep in mind when designing your new semi-estate home in West Springs. Connect with us to learn more about home-building or to book a viewing of one of our showhomes!
14 Things To Think About When Designing And Building Your New Home In Calgary
When designing a new home, most people focus on conspicuous questions like how many bedrooms they should have, what kind of flooring they prefer, and the style of the kitchen cabinets. These are fun selections to make, but it is really the overlooked things, like choosing where to install a garden hose valve and adding a drain in your garage, that make your home function optimally.
Here are 14 subtle but important things that novice homeowners tend to miss when designing and building their new home:
A 220-volt outlet in your garage: Your oven and dryer are not the only things that need to be powered by a 220-volt outlet. Many useful garage tools and appliances, like lawn mowers and electric nailers, draw their power from this outlet as well. Having a 220-volt outlet in your garage is also necessary if you plan to buy an electric vehicle in the future.
A drain in your garage: If you are ever going to park your car inside your garage, which you most likely will, considering Calgary's harsh winters, you will want a drain to collect the water under your vehicle.
A heated driveway: A major annoyance of owning a home in Calgary is shoveling the driveway in the winter. A heated driveway solves this problem. The initial investment is easily paid for in time and effort saved.
Light in your closets: Illuminated closets are extremely helpful for finding that one garment that would complete your outfit. Light can also help you organize your closet better.
A master outlet in the bathroom for night light: An outlet in the bathroom specifically reserved for a night light can be a life-saver for those late-night, semi-conscious trips to the toilet. All the better if it is motion activated!
Hose spigots on all sides of your home: Unless you are willing to wrestle with a 50-metre long hose every time you water your garden or wash your car, you should consider installing hose spigots on every side of your home.
A gas line for the grill: Most families eventually buy an outdoor BBQ grill to complete their backyard entertainment area. Roughing in a line for gas will allow you to install a gas BBQ and never have to worry about an empty propane tank just as you place the burgers on the grill.
Outlets in your kitchen island: Installing outlets in your island will allow you to use appliances without having to stretch a cord across to your wall outlets. Discreet outlets are also great for charging devices.
Water-conserving fixtures: Hands-free faucets, aerator showerheads, and dual-flush toilets, among others water-conserving plumbing fixtures, can save you up to 2 litres of water per day. Not only does modern plumbing significantly reduce your water costs in the long run, it is also good for the environment.
A master switch in the bedroom for all exterior lights: Your exterior lights should shut off about the same time as you go to sleep. It makes perfect sense, then, to install a master switch in your bedroom.
Ceiling fan: In light of increasing energy costs, a large fan overseeing the living room can be a great alternative to the central AC system when it comes to keeping homeowners cool in the summer.
Pocket doors where possible: Doors that slide right into the wall will save space and prevent obstructions in hallways or small rooms like bathrooms.
Smart thermostats: Research on energy savings shows that you can save up to 10% on heating and cooling if you dial back your thermostat by 2 or 3 °C every day. A smart thermostat can automatically adjust itself while you are away or asleep at night, or as the ambient temperature requires it.
A central vacuum system: Lugging a vacuum across multiple floors for your weekly cleanup is not exactly appealing. A central vacuum system makes your workload that much more manageable by providing a hookup at many strategic locations throughout your home.
Are You Ready To Build Your New Semi-Estate Home In West Springs?
The things you must consider when designing and building your new home may seem daunting, but the overall process should be a thrilling one. When you partner with Bri-mor Developments and Cedarglen Homes, we promise a completely tailored approach to creating your next home. With the support of our acclaimed customer service team and our in-house designer Studio 81, your home-building experience is guaranteed to be a highlight of a lifetime.
Call us at (403) 250-5650 or fill out the online contact form to begin building your dream home in West Springs.
FAQs
Q: How much are the Encore semi-estate homes in West Springs?
A: Our semi-estate homes start in the mid $700s and reflect the quality standards our builder partner, Cedarglen Homes, is known for.
Q: How do I visit a showhome?
A: Click on this link to set up a private showing.
Q: What other amenities are offered in Encore at West Grove Estates?
A: The community is close to multiple restaurants, educational institutions, health, fitness, and recreation centres, groceries, entertainment facilities, and more.
Semi-estate homes built by an award-winning builder in the highly sought-after SW Calgary community of West Springs. That's what you get when you choose Encore at West Grove Estates. Our homes are painstakingly crafted with elegance and quality at the forefront of everything we do. Because in the end, you deserve a home built just the way you want.
Get in Touch to Take the First Step Towards Finding Your Dream Home