Everything You Need To Know When Selecting Flooring For Your New Home
/
/
Everything You Need To Know When Selecting Flooring For Your New Home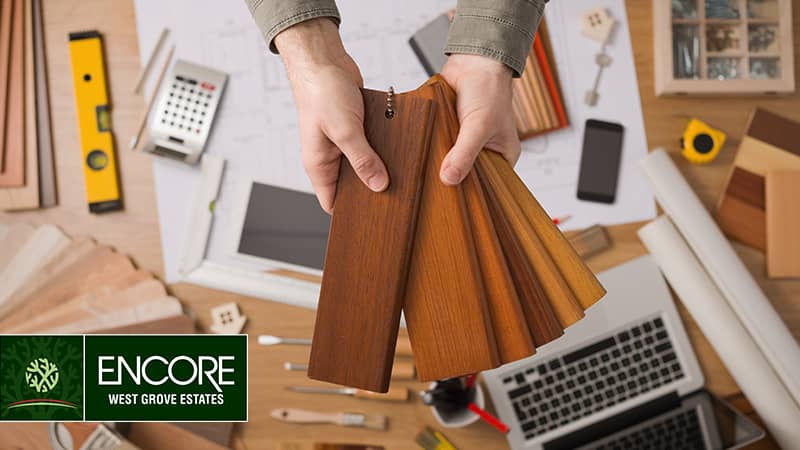 Your choice of flooring for your new Cedarglen home will reflect your taste and design aesthetic, but also your priorities and your lifestyle. You want flooring that is beautiful and stylish, but that will also hold up to the wear and tear of your family and pets. When you choose to build your new semi-estate home with Cedarglen in Encore at West Grove Estate, you will be guided by a team of top designers at Studio 81 Design Centre. Through consultation, they will work to understand your goals for the style and function of your home, and help you select flooring that you will love and that makes sense for you. Here are some of your options.
Flooring You Will Want To Walk All Over
Tile
Tile is a classic option for bathrooms and kitchens, but the shapes, textures, and patterns available in tile today make it an attractive selection for anywhere in your home. Tile flooring is durable, easy to clean, and available in a range of prices. Ceramic tile can be very cost effective and easy to maintain, but can be cold on the feet. Consider location within your home or explore options such as in-floor heating. Porcelain tile can be slightly more expensive than ceramic, but it is harder and less likely to be damaged. With the variety of colour and design options, tile can be an expression of your style and hold its own for an active family.
Engineered Hardwood
Engineered hardwood bonds a thin layer of actual hardwood to a base of high quality plywood to mimic traditional solid hardwood. This flooring option makes the look and feel of real hardwood flooring more affordable, but also somewhat more durable and easier to install. The great thing about engineered hardwood is that, just like traditional solid hardwood flooring, it can be sanded and refinished if it becomes scratched or nicked or if you wish to change the stain colour of your flooring.
Laminate
Laminate is an affordable and extremely durable option for flooring. It is a man-made product, manufactured by fusing layers of wood by-products with resin, applying a photo-realistic wood grain image, and sealing it with a transparent, protective, and resistant topcoat.
Because laminate is man-made the colour, textured finishes, and plank width options are endless. Laminate flooring looks great, is easy to clean and low maintenance, and scratch resistant. The two downfalls of laminate flooring are that it is susceptible to water damage and that it can never be sanded and refinished like traditional wood flooring.
Luxury Vinyl Plank
Luxury vinyl plank (LVP) offers all the benefits of engineered hardwood married with the sensibilities of other vinyl floorings. LVP is manufactured by combining polyvinyl chloride resins and stone polymer composites with other elements such as stabilizers and fungicides. The material is then pressed in layers; each layer with its own properties of waterproofing, durability, and resistance to things like mold and mildew. As with laminate, a high-res image is overlaid and a super durable topcoat is applied.
Luxury Vinyl Plank mimics the look, texture, and warmth of real wood, but it is infinitely more durable. It is comfortable underfoot, virtually maintenance free, environmentally friendly, and affordable. Best of all it is scratch and stain resistant and 100% waterproof.
Carpet
You either love it or you hate it, but carpet remains a popular choice to make a home feel cozy and warm. It is a smart selection for bedrooms and dens, especially in colder climates like Calgary when the last thing you want to do when getting out of your warm bed on a cold winter morning is put your tootsies on a freezing floor. And carpet has the additional benefit of softening footsteps on upper floors and dampening sound with its absorbability. Like other flooring materials, your options for carpet are quite vast. Here are the big features to consider when selecting carpet:
Material: More affordable materials are materials like nylon and polyester. More luxurious options include wool and even silk blends.
Texture: Carpets are most often cut pile (comfortable and soft looking) or looped (sturdy and durable for high traffic areas)
Pile Height: Low pile carpets are dense, durable, and easy to clean. Medium pile carpets are a great balance between comfort and durability. High pile carpets feel rich and luxurious but are harder to clean and maintain.
Face Weight: This is the amount of yarn that makes up the carpet pile. A higher face weight is denser and longer lasting.
Live In Luxury In West Springs Calgary
It is important that whatever flooring you choose, it is a reflection of your own taste and style and that it is durable enough to withstand the happy and active life you will live within your new build in West Springs. Most of all, you should love your flooring choices and feel confident that you will do so for years to come. The benefit of working with the Cedarglen design team at Studio 81 is that every finish and design decision you make for your new semi-estate home will be informed and of the highest quality.
Encore is one of Calgary's newest developments; an idyllic neighbourhood filled with meticulously crafted, customized semi-estate homes, reflective of the quality Cedarglen is known for. Whether you are looking to build a new home or for a quick possession home in Encore, this community is Calgary's choice for new home developments with beautiful views of the mountains, an array of green spaces, and close proximity to some of Calgary's best amenities. Encore at West Grove Estates is a great place to call home. To explore your options for home ownership in Encore at West Grove Estates, call 1-403-250-5650 or fill out the contact form. There's no better time to move into a new semi-estate home by Bri-mor at Encore in West Grove Estates at West Springs in SW Calgary.
FAQ
Q: Where is Encore at West Grove Estates located?
A: The semi-estate homes in Encore are bounded by Bow Trail SW to the south and 11 Avenue SW to the north.
Q: How much are the semi-estate homes in Encore, West Springs?
A: Our semi-estate homes start in the mid $700s and reflect the quality standards our builder partner, Cedarglen Homes, is known for.
Q: How often can I visit my home when it is under construction?
A: Site safety is the most important thing. Your construction team may be working on several projects at any given time and drop-ins could interrupt workflow and put you or the team at risk. If you want to visit your home under construction, connect with your Cedarglen team and they will schedule a time for you to visit. There is no limit to the number of times you can check the progress.
Semi-estate homes built by an award-winning builder in the highly sought-after SW Calgary community of West Springs. That's what you get when you choose Encore at West Grove Estates. Our homes are painstakingly crafted with elegance and quality at the forefront of everything we do. Because in the end, you deserve a home built just the way you want.
Get in Touch to Take the First Step Towards Finding Your Dream Home