Got The Winter Blues? Health and Fitness Pick-Me-Ups In West Springs.
/
/
Got The Winter Blues? Health and Fitness Pick-Me-Ups In West Springs.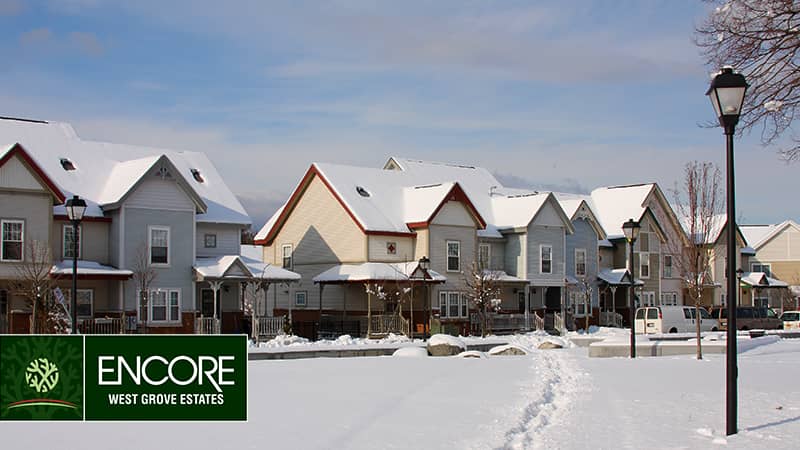 It is no secret that Calgary can have long, cold winters. It can be very easy to get the winter blues, especially during COVID when restrictions were preventing us from escaping to the gym or attending a rejuvenating and relaxing yoga class. Now that many restrictions are lifted, there are more opportunities to get out and fight your winter blues. This is especially true if you live in one of SW Calgary's newest neighbourhoods, West Springs. Heading out of your home and getting some exercise may be the only medicine you need to feel great this winter. The amazing health and fitness amenities of West Springs will help you battle your winter blues so you can feel like the best version of yourself.
5 Health And Fitness Amenities In West Grove Estates
1. Anytime Fitness
Living in West Springs means you will no longer have an excuse not to go to the gym. Encore is close to many fitness and gym facilities including Anytime Fitness. Exercising is one of the best ways to boost your endorphin levels to help you fight off your winter blues. Even if you work shift work as a first responder, Anytime Fitness is open 24/7 to allow you to find the time to get a good workout in.
2. Barre Belle
Not a fan of the gym but want to get your body moving? Try a barre class at Barre Belle where you complete full-body workouts with stretching and ballet elements incorporated into each workout. The Barre Belle program is accessible to all levels, however, it is challenging and you should prepare to sweat. Also, if you are a new mom and cannot find the time to go work out on your own, you can bring your baby to a Belles and Babes class where you can complete a barre class with your child.
3. Shoppers Drug Mart
Shoppers Drug Mart is one of the most universal stores where you can buy last-minute groceries, your makeup products, everyday household items, and so much more. Fight off your winter blues by stopping at Shoppers Drug Mart to grab some bath bombs, a face mask, and some treats to help you relax for an evening. You can also spoil yourself by purchasing a new cologne or some new makeup. There are few things better than some retail therapy to help you fight those winter blues.
4. Mama Massage
Massages are more than just relaxing. There is proof that massage offers a variety of health benefits. A Swedish or hot stone massage offers the right amount of pressure to soothe your achy muscles after a tense week at the office or after feeling sore from sitting around for long periods of time. Massages have also been known to reduce anxiety symptoms and increase feelings of positivity by influencing your body's natural hormones. If you are feeling overly stressed or have been feeling down, a massage can be just what you need to help you feel better mentally and physically.
5. The Chopped Leaf
West Springs offers a variety of restaurants within the community, one of the most popular being The Chopped Leaf. The Chopped Leaf offers healthy meals ranging from fresh salads to delicious wraps and bowls. If you are feeling caught up in the cold Calgary winter, treat yourself to a salad or wrap from The Chopped Leaf to give yourself a break from cooking while still enjoying a nutritious meal.
Live In Luxury In West Springs Calgary
Whether you are looking to build a new home or for a quick possession home in Encore, this idyllic neighbourhood is filled with meticulously crafted, customized estate and semi-estate homes reflective of the quality our building partner, Cedarglen Homes, is known for. With beautiful views of the mountains, an array of green spaces, and close proximity to some of Calgary's best amenities, West Grove Estates offers a beautiful home for every family. To explore your options for home ownership in Encore at West Grove Estates, call 1-403-250-5650 or fill out the contact form. There's no better time to move into a new semi-estate home by Bri-mor at Encore in West Grove Estates at West Springs in SW Calgary.
FAQ
Q: Where is Encore at West Grove Estates located?
A: The semi-estate homes in Encore are bounded by Bow Trail SW to the south and 11 Avenue SW to the north.
Q: How much are the semi-estate homes in Encore, West Springs?
A: Our semi-estate homes start in the mid $700s and reflect the quality standards our builder partner, Cedarglen Homes, is known for.
Q: How far of a drive is it from West Springs to Canmore?
A: One of the best features of this new neighbourhood in West Springs is its close proximity to the mountains. It is only a 45-minute drive to Canmore and a 1 hour-10 minute drive to Banff National Park.
Semi-estate homes built by an award-winning builder in the highly sought-after SW Calgary community of West Springs. That's what you get when you choose Encore at West Grove Estates. Our homes are painstakingly crafted with elegance and quality at the forefront of everything we do. Because in the end, you deserve a home built just the way you want.
Get in Touch to Take the First Step Towards Finding Your Dream Home