Holiday Shopping Guide For West Springs
/
/
Holiday Shopping Guide For West Springs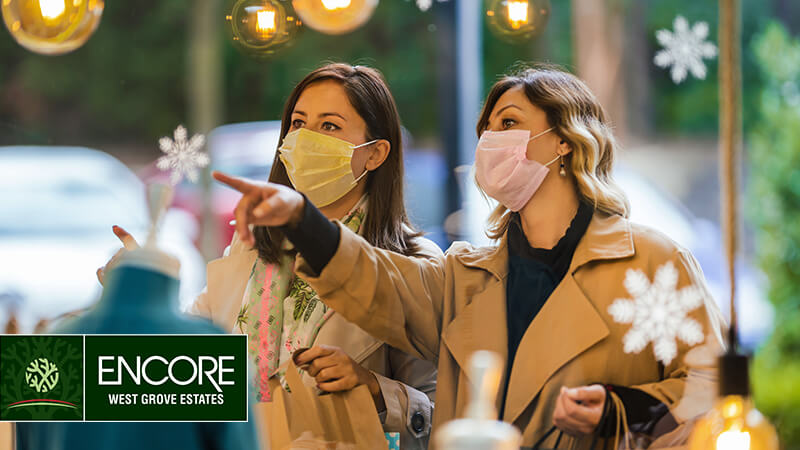 Living in the community of Encore in West Grove Estates provides you with easy access to a variety of amenities close to home making for easy holiday gift shopping. With convenient nearby amenities such as boutiques, restaurants, and recreation facilities, you will be able to check off all of your holiday shopping items and to-dos within a quick five-minute drive. Aspen landing is also right around the corner providing you with even more options for shopping and some amazing restaurants to book your holiday Christmas party or get one of your food-loving friends a gift card. There is a gift to be found for everyone on your list in West Springs this season.
As one of Calgary's newest developments, Encore is located in a beautiful community that offers diverse options for shopping, recreation, outdoor activities, and restaurants. If you still need to get your holiday shopping done, do not worry. A quick drive from your new home in Encore at West Grove Estates will provide you with the variety of shops you need to get the job done within five minutes from your home. We have provided a list of shops, restaurants, and other amenities to help you check off your shopping list needs.
APT 22
Apartment 22 is a beautiful Calgary local boutique that offers a variety of trendy fashion items for any one of your fashionista friends. If any of your friends or family members have a passion for fashion, they will be sure to love a sweet gift from this adorable boutique.
Nirvana Nail Bar
Nirvana Nail Bar is an exceptional nail salon that offers a variety of beauty services suited for a family member or friend who loves to be pampered. The attentive and expert service is paired with a calming yet stylish setting, culminating in a truly first-class experience. Purchase a gift card or nail treatment for a friend or family member to give them the luxury nail experience they deserve.
Vin Room
Do you know a friend or family member who is a wine connoisseur? If yes, then they will for sure love Vin Room. Vin Room offers a beautiful setting for individuals to explore a diverse collection of wines. The restaurant offers an exceptional array of over 80 different wines that can be enjoyed through sampling or by the glass or paired with delicious lunch and dinner options to complement each wine. Gift card options are available for purchase as well as a vast variety of dinner package options that can be delivered right to your door to be enjoyed in the comfort of your own home.
Barre Belle
Barre Belle offers a variety of Barre programs for individuals looking to get their sweat on. If you know of someone who is up for trying new ways to get a workout in, then the gift of a class from Barre Belle will be the perfect fit. The Barre Belle Program is a full-body workout and complete fitness program that combines strength and cardio exercises designed for maximum results. There are also classes offered to new parents who can bring their child in a carrier to get in a sweaty workout.
Mercato
Mercato is a beautiful Italian restaurant located in the heart of West Springs. It offers both a restaurant setting as well as a market to purchase your favorite homemade Italian dishes and ingredients. This renowned Calgary Italian restaurant and market provides the highest-quality Italian food favorites that can make for the perfect gift for any food-lover.
Award-Winning Builder In West Springs Calgary
The beautiful development of Encore at West Grove Estates provides an extensive number of amenities close to your home. With easy access to grocery stores, local boutiques, recreation, and restaurants, your holiday season will be sure to be stress-free so you can enjoy more time with family and friends instead of worrying about checking off items on your holiday to-do list. In addition to easy access to these amenities, his idyllic neighbourhood is filled with meticulously crafted, customized homes reflective of the quality our building partner Cedarglen Homes is known for. To learn more or to view the stunning Cedarglen show homes at Encore, connect with the award-winning team from Bri-Mor by filling out the contact form or by calling us at 1-403-250-5650.
FAQ
Q: What are some other West Springs amenities?
A: Other amenities in the West Springs area include CO-OP Grocery Store, Shoppers Drug Mart, Deville Coffee, Red Bloom Salon, Lola Lash Bar, Brekkie Cafe, and so much more!
Q: What is the starting price of Cedar Glen Homes In West Springs?
A: Semi-estate homes start in the mid $700s and reflect the quality standards our builder partner, Cedarglen Homes, is known for.
Q: Is Encore in West Grove Estates close to any recreation centers?
A: Yes! Westside Recreation Centre is a quick five-minute drive away offering a wave pool, state-of-the-art gym, ice skating rink, rock climbing wall, and more!
Semi-estate homes built by an award-winning builder in the highly sought-after SW Calgary community of West Springs. That's what you get when you choose Encore at West Grove Estates. Our homes are painstakingly crafted with elegance and quality at the forefront of everything we do. Because in the end, you deserve a home built just the way you want.
Get in Touch to Take the First Step Towards Finding Your Dream Home