New Home Building Trends For 2022
/
/
New Home Building Trends For 2022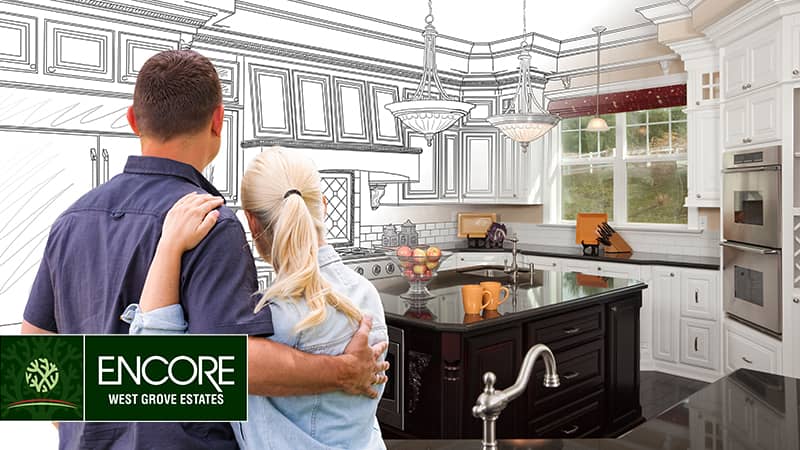 Building a new home gives you the opportunity to show off your individuality with your home design and create an environment that reflects your lifestyle, personality, and style. You are in charge of picking and choosing everything from wall colors and light fixtures to the grout color for your backsplash in the kitchen. With so many design options out there, it can be overwhelming to know where to even begin. Encore at West Grove Estates partners with Cedarglenhomes to offer new builds that can be customized to your personal preferences in the new neighborhood of West Springs. You can personalize everything to match your tastes and preferences so your new build can feel like a dream home for you and your family. Not sure how you want to design your home? Here are some of the most popular new home design trends you will see in 2022.
Style Inspiration For Your Home
Choosing the design elements for your home can be tricky. There are so many unique and beautiful design trends out there that can make it difficult to settle upon one theme. To give you some inspiration and hopefully help you decide what design you like best, here are some of 2022's best home design trends.
Add Some Color To Your Kitchen
One of the biggest trends to be seen in 2022 is the move away from all-white kitchens. Many designers and builders have seen more homeowners add pops of color to their kitchens to add a little spice. Although all-white kitchens are timeless, adding color makes the space feel more personalized and warm. Colored cabinets such as green or blue have increased in popularity as well as wood cabinets or cabinets painted in warm or neutral hues. These designs create an open and airy feel within the space that is subtle in tone, but robust in appeal.
Maximalism Design
As new inventory for furniture wanes, demand for high-quality antiques is big in demand. Antique furniture allows creative expressions of personality to fuse with interior design. Furnishings such as rugs, art, and tables can add that special touch to add character to your home. A balanced proportion of antique furniture will offer a lot of leeway to run wild with prints, colors, finishes, and styles as well to make your home feel more personalized. These antique pieces will also become a conversation starter in your home adding an unexpected layer of visual interest.
Biophilic Design
Over the course of COVID, many people gained a deeper appreciation for the outdoors due to the inability to travel and being stuck at home working remotely. This deep appreciation for nature has become a prominent design option in 2022. Many new builds are incorporating more indoor/outdoor living with large windows and open spaces to maximize fresh air and sunlight in the home. These design elements help your home feel more open and airy as opposed to just four walls blocking out the beauty of nature.
Multifunctional Spaces
With the continuation of hybrid and remote work from home in 2022, flexible live/work spaces that accommodate the needs of everyone at home are paramount. Many people are now wanting homes that are not only ideal places to live but are also places where they can work and where their children can learn. Incorporating a built-in desk near the kitchen or a spare room that can double as an office is becoming extremely popular in new build designs. Every inch of your house has the capability of having a purpose, and designing it wisely can offer great potential to make every space in your home functional.
Live In Luxury In West Springs Calgary
One of the best parts about a new build is being able to pick and choose design options reflective of your personal preferences. The soothing colors or bright shades you pick out will help with your mood and mindset while giving you that homey feel. All of your wants and needs can be met as there are endless possibilities when it comes to home design. Designing your home will ensure that it is nothing short of your unique standards and expectations.
Whether you are looking to build a new home or for a quick possession home in Encore, this idyllic neighbourhood is filled with meticulously crafted, customized estate and semi-estate homes reflective of the quality Cedarglen is known for. With beautiful views of the mountains, an array of green spaces, and close proximity to some of Calgary's best amenities, West Grove Estates offers a beautiful home for every family. To explore your options for home ownership in Encore at West Grove Estates, call 1-403-250-5650 or fill out the contact form. There's no better time to move into a new semi-estate home by Bri-mor at Encore in West Grove Estates at West Springs in SW Calgary.
FAQ
Q: Where is Encore at West Grove Estates located?
A: The semi-estate homes in Encore are bounded by Bow Trail SW to the south and 11 Avenue SW to the north.
Q: How much are the semi-estate homes in Encore, West Springs?
A: Our semi-estate homes start in the mid $700s and reflect the quality standards our builder partner, Cedarglen Homes, is known for.
Q: How far of a drive is it from West Springs to Canmore?
A: One of the best features of this new neighbourhood in West Springs is its close proximity to the mountains. It is only a 45-minute drive to Canmore and a 1 hour-10 minute drive to Banff National Park.
Semi-estate homes built by an award-winning builder in the highly sought-after SW Calgary community of West Springs. That's what you get when you choose Encore at West Grove Estates. Our homes are painstakingly crafted with elegance and quality at the forefront of everything we do. Because in the end, you deserve a home built just the way you want.
Get in Touch to Take the First Step Towards Finding Your Dream Home