Schools Near Homes In Calgary's West Groves Estates
/
/
Schools Near Homes In Calgary's West Groves Estates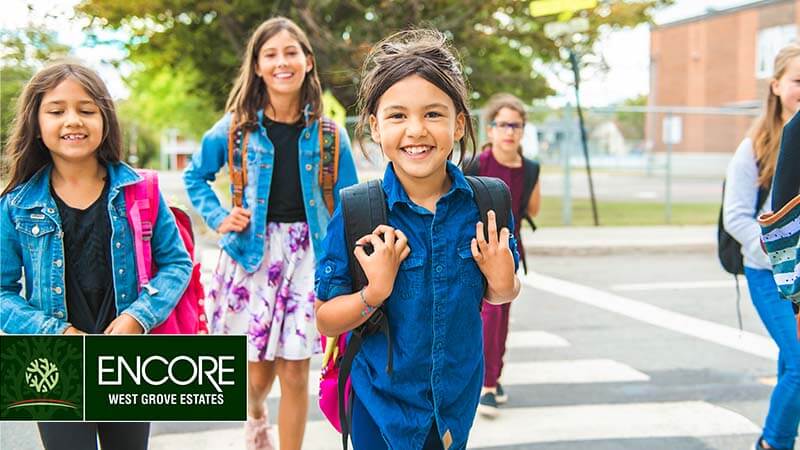 Are you looking for another reason to move into a new West Groves Estates home in Calgary's West Springs community?
In addition to our homes' excellent build quality and their accessibility to the hottest amenities and recreation opportunities, they are close to some of the best schools in the area. Whether you are looking for a private school for your child, a public high school for your teen, or even technical education for yourself, you will likely find it a short walk or drive away from your new home.
If any of these schools catches your fancy and makes you that more interested in moving into one of our new homes for sale in West Springs, do not hesitate to book a viewing with us!
West Springs Schools Near Your New Home
A major benefit of living in a West Groves semi-estate home is its proximity to the top academic institutions in Calgary. Regardless of the age of the learner, they are guaranteed to find a school perfect for their needs and in commuting distance.
Child Care
Kids University: This early learning institution takes care of children aged 0 to 6. Kids University strongly adheres to provincial education standards and emphasizes an inquiry-based learning approach. Parents especially love their culturally diverse and inclusive environment.
First Step Academy: First Step Academy specializes in providing dayhome care for children aged 1-4, day care and kinder care to children aged 3-5, and out of school care for children aged 6-12. Whether you are looking to provide learning opportunities in a controlled environment for your toddler or a stimulating environment to burn your child's after school energy, you cannot go wrong with First Step Academy.
Rosscarrock School: The Rosscarrock kindergarten brings the humanities and sciences together through its dual focus on language development and technology-based learning. A relatively close-knit school, Rosscarrock is a great choice for parents seeking a more involved experience for their child.
K-9
Calgary Arts Academy: As its name suggests, this public charter school believes that art should form the cornerstone of your child's learning experience. Children who enjoy music, dancing, or any other forms of art will feel right at home at Calgary Arts Academy.
Calgary Waldorf School: A private school recognized for its philosophy that children learn best in non-competitive environments, Waldorf values your child's emotional and spiritual growth above all else. Instilling wonder and curiosity in bright young minds is just as important as teaching the standard curriculum.
Joan of Arc School: A Catholic school, Joan of Arc is a well-rounded school that is distinguished for its inclusivity and nurturing atmosphere. Its mandate on Diverse Learning programs provide individualized learning plans and additional academic intervention to students that need them.
St. Michael School: A K-9 Catholic school renowned for its diverse student body and exciting extracurriculars, St. Michael is deeply committed in modelling your child into ideal citizens who understand the importance of respect, responsibility, trust, and family.
K-12
Calgary Academy: This excellent private school distinguishes itself by its extremely small classes and its support for children with learning difficulties. The school places a premium on boosting children's self-esteem and confidence—key to successful learning.
Calgary Christian School: If you are looking to incorporate Christian faith in your child's elementary education, Calgary Christian School is it. Its adherence to Christian tenets is matched only by its emphasis on post-secondary preparation.
Calgary French & International School: This private school is one of the best places to have your child pick up Canada's second official language: French. This school believes in a truly worldly educational experience, mandating teachings in English and Spanish as well.
Edge School: Edge is the home of child athletes and generational sports talents. This private school offers a more flexible curriculum so that your child can be at the top of their sport without losing a beat in their elementary education.
Rundle College: This top-rated K-12 private school aims to prepare your child for the rigours of the best universities on the continent. It offers both the quality education you would come to expect from a school of this calibre and the extracurricular opportunities to make your child competitive for enrolment at any university.
Webber Academy: One of the highest ranked schools in Alberta, this private school focuses on shaping tomorrow's leaders. As such, Webber spares no resources in preparing your child for university.
Elementary
Holy Name School: This school is perfect for parents wanting to immerse their child in a French educational experience without neglecting their faith teachings. Holy Name accepts children with no background in French and follows the provincial curriculum.
West Springs School: A walk away from your West Groves semi-estate home, West Springs School boasts a rigorous curriculum and an exceptional environment-focused education that is sure to prepare your child for tomorrow's world.
Middle Schools
Vincent Massey School: In addition to strong academics, Vincent Massey puts a premium on physical education and band training. It has one of the most developed intramural sports programs in the province and its student troupes have performed on several stages in Calgary and Western Canada.
West Ridge School: West Ridge is popular for its large selection of extracurricular activities and its clamorous school spirit. A West Ridge Raptor is always on the prowl for new learning experiences and relationships with their immediate community.
High Schools
Bishop Carroll High School: This high school combines faith-based teachings with an athletics-focused curriculum. Bishop Carroll excels at getting students to their university of choice through athletic scholarships.
Ernest Manning: Elite students across the country congregate at Ernest Manning. If your child is a historically high-performing student, Ernest Manning is a great place to prepare them for university life. Graduates from this institution are known to pursue successful careers in tech.
National Sport School: Where excellence in sports is prized above all else, the National Sport School offers a unique opportunity for student-athletes to achieve something great with their gift. A low student to teacher ratio ensures that your child will always benefit from quality education even as they strive to become the best at what they do.
Post-Secondary
Alberta University of the Arts: AUArts is a relatively small public college focusing on art and design. Students wanting to fashion a career in these fields will be well-served by their variety of certificates, bachelor degrees, and master degrees on offer.
Bow Valley College: A public college with an enrolment of 15,000, Bow Valley specializes in conferring certificates and diplomas in coveted fields such as tech and health. It is a strong pick for busy adults who do not have the time to go through a full 4-year program.
Mount Royal University: This public university of 14,000 offers 12 degrees and 32 majors in arts, business, communication studies, science and technology, and more. The university was recognized in 2017 as a leader in social innovation and changemaking.
Southern Alberta Institute of Technology: SAIT is a large polytechnic institution of 14,000 that offers more than 110 career-focused programs in technology, skilled trades, and commerce. Its programs in hospitality, hotel management, tourism, and culinary arts are among the best in the world.
University of Calgary: One of the largest universities in Alberta with a student body of 30,000, this publicly-funded research university awards bachelors, masters, and doctorates in no fewer than 250 programs. The university has especially close ties with the province's famous petroleum and geoscience industries.
West Springs Has Access To Amazing Educational Opportunities
Moving into the West Springs community means having easy access to almost 30 academic institutions for people of all ages and all walks of life. See for yourself what our neighbourhood has to offer by booking a visit to one of our showhomes or new homes for sales in West Springs by calling (403) 250-5650 or filling out the online contact form.
FAQs
Q: How much are the Encore semi-estate homes in West Springs?
A: Our semi-estate homes start in the mid $700s and reflect the quality standards our builder partner, Cedarglen Homes, is known for.
Q: How do I visit a showhome?
A: Click on this link to set up a private showing.
Q: What other amenities are offered in Encore at West Grove Estates?
A: The community is close to multiple restaurants, educational institutions, health, fitness, and recreation centres, groceries, entertainment facilities, and more.
Semi-estate homes built by an award-winning builder in the highly sought-after SW Calgary community of West Springs. That's what you get when you choose Encore at West Grove Estates. Our homes are painstakingly crafted with elegance and quality at the forefront of everything we do. Because in the end, you deserve a home built just the way you want.
Get in Touch to Take the First Step Towards Finding Your Dream Home