The Time Is Now To Register Your Little One For Preschool Or Kindergarten In West Springs
/
/
The Time Is Now To Register Your Little One For Preschool Or Kindergarten In West Springs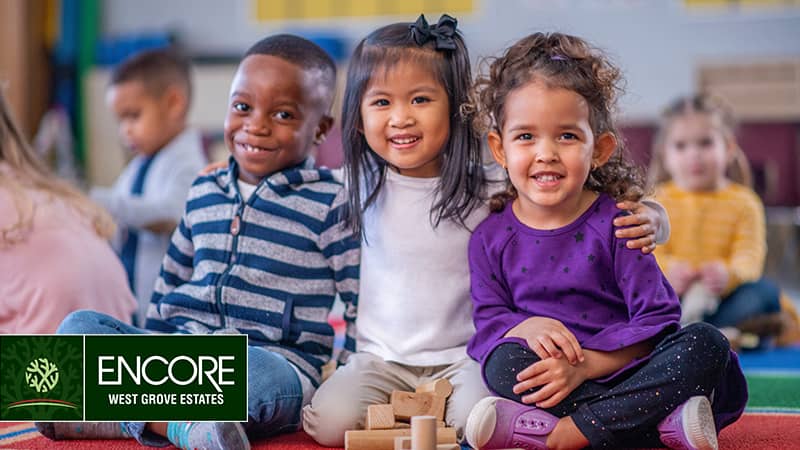 Have you thought about registering your child for preschool in the fall? If so, now is the time to begin scouting preschools around the city that would best suit your child's learning needs. There are many preschool and kindergarten options for your little one in close proximity to West Springs. Fall registration has begun therefore it is important to take some time and start your preschool search now. Encore at West Grove Estates offers many preschool and kindergarten options close by so you do not have to worry about long commutes to and from school. You can also feel confident knowing that your child has been placed in one of Calgary's best learning environments to help them thrive academically and socially.
4 Kindergarten And Preschools Near West Springs
1. Kids University
Kids University is conveniently located five minutes away in West 85th Plaza. This early learning and childcare center for children ages 0-6 is focused on collaborative and inquiry-based education using a unique 3-in-1 curriculum to help develop the whole child. The Montessori, left-brain curriculum includes activities and materials to teach your child mathematics, science, reading, writing, comprehension skills, as well as practical life skills. Kids University offers three schedule options you can choose from to accommodate the weekly childcare schedule you desire:
Preschool only hours (8:30am-3:00pm)
Preschool and care hours (7:00am-5:30pm)
Half-day preschool hours (8:30am-11:30am or 12:00pm-3:00pm)
You can register your child online or book a tour through their website.
2. First Step Academy
First Step Academy provides preschool and day home care for children between the ages of 1-3 as well as kinder care for children between the ages of 3-5. All daycare options include healthy prepared meals and snacks for your child throughout the day as well as all materials and supplies needed for your child to thrive in the learning environment. First Step Academy creates a small group environment where children can learn to do new things and associate with intellectual adults who truly wish to foster children's learning. First Step Academy offers several different scheduling options which include:
All daycare (7:00am-6:00pm)
Mid daycare (9:00am-3:00pm)
All day kindergarten (9:00am-3:00pm)
First Step Academy registration is now open! To register your child, book online through their website.
3. Calgary French And International School
The Calgary French and International school is located in the neighbourhood next to West Springs called Cougar Ridge. This private educational institution features extensive language learning predominantly in French. Their early childhood program fosters student growth across all areas of early development and learning, and planned learning experiences target children's individual needs and interests. There are a variety of program options which include:
Preschool half-day (8:30am-11:30am)
Preschool full-day (8:30am-3:30pm)
Junior kindergarten morning (8:30am-11:30am) or full-day (8:30am-3:30pm)
Kindergarten full-day
Before and after school care
Inquire about registration by visiting the Calgary French And International School website.
4. Calgary Waldorf School
The Calgary Waldorf School is a private school located in Cougar Ridge (a five-minute drive from West Grove Estates). The school offers programs from preschool all the way through grade nine with teaching methods focussed on technology, art, and observation. Waldorf believes in fostering a non-competitive environment for its students to allow each individual to excel at their own success. The arts-music, story, drawing, and painting- are interwoven through all subjects. Preschool and Kindergarten are environments of love, warmth, and harmony, allowing a gentle transition between the security of home and the coming elementary school years. Preschool program options include:
5 full days per week: 8:30 am to 3:00 pm on Monday to Friday.
3 full days per week: 8:30 am to 3:00 pm on Monday, Wednesday and Friday.
2 full days per week: 8:30 am to 3:00 pm on Tuesday and Thursday
The Waldorf school also provides before and after-school childcare. To register or book a tour, visit their website.
Calgary's Best Preschools Conveniently Located Near Encore At West Grove Estates
Whether you are looking to build a new home or for a quick possession home in Encore, this idyllic neighbourhood is filled with meticulously crafted, customized estate and semi-estate homes reflective of the quality of our building partner, Cedarglen Homes, is known for. With some of Calgary's best educational institutions nearby, your child will be able to excel in a learning environment that fosters their individual learning needs and interests. To explore your options for homeownership in Encore at West Grove Estates and what the community has to offer for your family, call 1-403-250-5650 or fill out the contact form. There's no better time to move into a new semi-estate home by Bri-mor at Encore in West Grove Estates at West Springs in SW Calgary.
FAQ
Q: Where is Encore at West Grove Estates located?
A: The semi-estate homes in Encore are bounded by Bow Trail SW to the south and 11 Avenue SW to the north.
Q: How much are the semi-estate homes in Encore, West Springs?
A: Our semi-estate homes start in the mid $700s and reflect the quality standards our builder partner, Cedarglen Homes, is known for.
Q: How far of a drive is it from West Springs to Canmore?
A: One of the best features of this new neighbourhood in West Springs is its close proximity to the mountains. It is only a 45-minute drive to Canmore and a 1 hour-10 minute drive to Banff National Park.
Semi-estate homes built by an award-winning builder in the highly sought-after SW Calgary community of West Springs. That's what you get when you choose Encore at West Grove Estates. Our homes are painstakingly crafted with elegance and quality at the forefront of everything we do. Because in the end, you deserve a home built just the way you want.
Get in Touch to Take the First Step Towards Finding Your Dream Home