Things To Think About When Viewing The Encore Showhomes
/
/
Things To Think About When Viewing The Encore Showhomes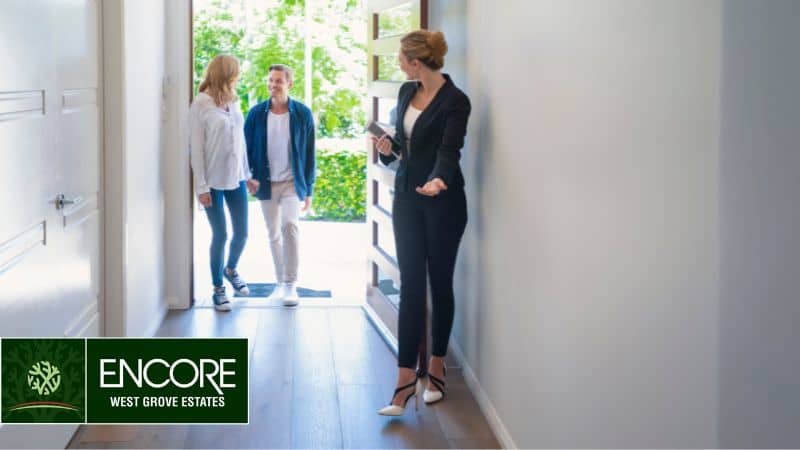 New builds are a great way to customize a home so that it can meet your needs and be the perfect place to call home. Trying to figure out what design and functional features you want in your new home can be harder than you think. Viewing a showhome gives you a chance to see your options and get a sense of what aspects of the new home you like and dislike. New builds for show will have features available in your new Cedarglen home and give you a great opportunity to ask any questions of the showhome agent to determine how you want your new build customized.
Pay Attention To These 5 Things In A Showhome
1. The Floor Plan
Seeing a floor plan on blueprints can be very helpful, but it won't give you the same sense of the space that actually being in the building will. When you're touring a showhome, think about how the space will work for you and your family; do you like the open floor plan or does it not feel cozy enough? Are the bedrooms too big or too small? Walking around a showhome will let you know how you feel about the space and what changes may need to be made when designing your own home.
2. The Style
Builders often have various styles they like to showcase. Sometimes they will create homes with a modern interior, sometimes classic, sometimes rustic, and so on. Builders also tend to use certain materials and colour schemes to complement the style of home they are building. Seeing the space and how everything works together will help you to understand what style you like and want in your own home. Going into a showhome is far more helpful than seeing photos online, as it gives you an opportunity to touch the materials being used and to interact with the features of the house. When viewing a show home, consider what features and styles you like.
3. The Square Footage
For some people the amount of space is non-negotiable, but the square footage of a house can be utilized differently to make spaces feel larger or smaller. If the space of the home is used effectively, a home of 1,500 square feet can feel as though it's 2,000 square feet. Conversely, if a home has lots of square footage but the space isn't being used in a way that works for you, there is no point paying for a larger space.
4. Standard Versus Upgraded Materials
When walking through a showhome, take note of what features come standard and what features that you're seeing are upgrades. This can very quickly change the price of the home you want. Ask for the price of the showhome itself to get an idea of how standard versus upgraded materials influence the overall price. Take note of which materials and features you like the most to decide what you would be willing to upgrade and which features you could save on.
5. The Community
The old saying in real estate holds true: location, location, location. While the floorplan, materials, and style are all things that can be discussed with the builder, the community of the showhome needs to fit the needs of your family today and as your family grows and changes. In the community of Encore at West Grove Estates in West Springs, there are many options for shopping, entertainment, and education in this safe and easily accessible Calgary neighbourhood. If you're trying to decide if this community is right for you and your family, read more about Encore At West Grove Estates in 4 Reasons A New Build In West Springs Is Great For Your Family.
New Builds In Encore at West Grove Estates In West Springs
New Cedarglen homes in the community of Encore offers you a chance to live in a beautiful home that works for you and your family while meeting your practical and aesthetic needs. This idyllic neighbourhood is filled with meticulously crafted, customized homes reflective of the quality Cedarglen is known for. When you choose Encore at West Grove Estates, you are building more than a house, you are building a home. Explore everything that Encore at West Grove Estates has to offer by connecting with our Bri-mor team today at 1-587-356-3032 or through the online contact form. There's no better time to move into a new semi-estate home by Bri-mor at Encore in West Grove Estates at West Springs in SW Calgary.
FAQ
Q: How much are the semi-estate homes in Encore, West Springs?
A: Our semi-estate homes start in the mid $700s and reflect the quality standards our builder partner, Cedarglen Homes, is known for.
Q: How far of a drive is it from West Springs to Canmore?
A: One of the best features of this new neighbourhood in West Springs is its close proximity to the mountains. It is only a 45-minute drive to Canmore and a 1 hour-10 minute drive to Banff National Park.
Q: How often can I visit my semi-estate Calgary home when it is under construction?
A: Site safety is the most important thing. Your construction team may be working on several projects at any given time and drop-ins could interrupt workflow and put you or the team at risk. If you want to visit your home under construction, connect with your Cedarglen team and they will schedule a time for you to visit. There is no limit to the number of times you can check the progress of your new build.
Semi-estate homes built by an award-winning builder in the highly sought-after SW Calgary community of West Springs. That's what you get when you choose Encore at West Grove Estates. Our homes are painstakingly crafted with elegance and quality at the forefront of everything we do. Because in the end, you deserve a home built just the way you want.
Get in Touch to Take the First Step Towards Finding Your Dream Home