Tips For Landscaping Your Custom New Home In Encore
/
/
Tips For Landscaping Your Custom New Home In Encore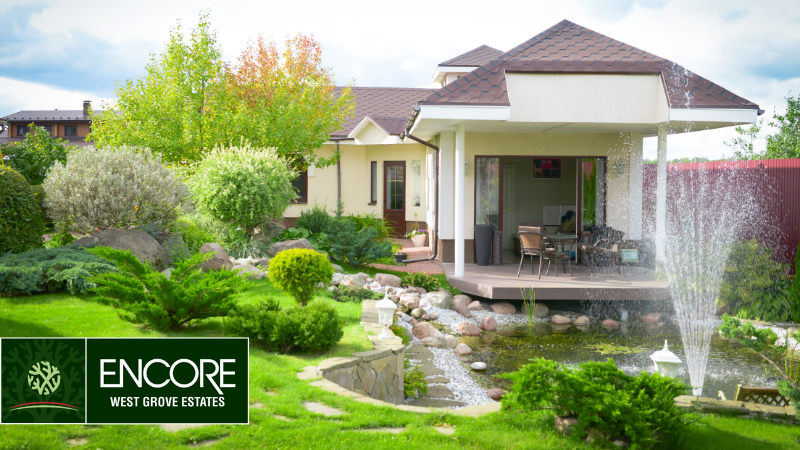 A beautiful, new, custom home will give you the dream space you've always wanted, but it won't be complete if it's sitting on a plot of dirt. Landscaping is the final touch needed to create the perfect home for you and your family. Great landscaping will give you the ability to use the space as you see fit, whether this is entertaining guests on the weekend, creating lots of play space for kids, or even developing a big and bountiful garden. Landscaping also increases the curb appeal of your home, as the front yard is the first thing people see when they visit or drive by. Whether you want to hire a professional landscaping team or make this project more hands-on, here are some ways you can help the landscaping process go smoothly while establishing a functional and picturesque yard.
Tips To Approach Landscaping Projects
Create A Budget
Have a clear budget in mind when you begin landscaping. This may involve some research to learn how much materials and labour cost so you can have an accurate estimate of the total price. Having this budget in mind before you start planning can help you determine where you want to spend more and where you might want to hold back. Having a budget helps you to have a realistic idea of your final project, as you can't expect a job to look like it cost $20,000 more than it actually did. There are certainly ways that you can accentuate the more elegant and elevated pieces of your landscaping, but this may take a professional eye. Another important thing to factor into your budget is the quality of work. It might seem great to find materials or work that are discounted, but you do not want low-quality materials or labourers who cut corners.
Make A Plan
Once you have an idea of your budget, it's time to start planning. Think about your landscaping goals: how do you want to use the space? What level of privacy do you want? What features are important to you? Do you want space to entertain guests? Consider what greenery you want and how the angle of the sun may impact which plants thrive to help you determine where trees and bushes should go. Once you have an idea of what you want your property to look like, try to sketch it out. If you're hiring out some or all of the work, you will need to explain your vision to others.
Prioritize
Having a plan is great, but remember that you'll have to break your project up into smaller, more manageable tasks. You'll want to start off laying the foundation and planting larger items such as trees and bushes. Make sure you start your project with good quality soil and that you make everything even and level. As your back and front yard come together, decide what tasks are most important to finish first and make adjustments to your plan to ensure you stay on budget. Most people like to start with the front yard since that area is seen by everyone.
Proceed With Installation
Once everything is planned, prepped, and ready, it is time to start installing. If you're working with a landscape contractor, stay in regular communication with them so you can know the progression of the project. If you're more hands-on in your landscaping, remember to start with large items first. Planting large trees or installing anything that needs structural elements underground is a good start. Smaller touches such as plants in the garden should be added closer to the end of the project.
Follow Up
Once your yard is all set up and ready, you will still need to pay close attention. If you've put down new grass or plants, you'll need to stick to a strict watering schedule so that strong roots can develop. You'll also want to monitor that any irrigation systems are working properly and not leaking. Within the first year of installation, you should check that any hardscaping is holding up well by inspecting them several times. This is a good safety measure to ensure everything is stable and will endure over time.
Customize Your Landscaping At A New Encore Home
The Cedarglen new homes in Calgary are a great opportunity to customize a semi-estate home. By building your landscape from the ground up, you can customize the space to suit your needs. Creating a front and back yard that are completely your own will perfectly complement the new builds in West Springs that are designed for your comfort and convenience.
Encore is one of Calgary's newest SW developments; an idyllic neighbourhood filled with meticulously crafted, customized semi-estate homes, reflective of the quality Cedarglen is known for. With beautiful views of the mountains, an array of green spaces, and close proximity to some of Calgary's best amenities, Encore at West Grove Estates is a great place to call home. To explore your options for home ownership in Encore at West Grove Estates, call 1-403-250-5650 or fill out the contact form. There's no better time to move into a new semi-estate home by Bri-mor at Encore in West Grove Estates at West Springs in SW Calgary.
FAQ
Q: Where is Encore at West Grove Estates located?
A: The semi-estate homes in Encore are bounded by Bow Trail SW to the south and 11 Avenue SW to the north.
Q: How much are the semi-estate homes in Encore, West Springs?
A: Our semi-estate homes start in the mid $700s and reflect the quality standards our builder partner, Cedarglen Homes, is known for.
Q: How do I visit a showhome?
A: Click on this link to set up a private showing.
Semi-estate homes built by an award-winning builder in the highly sought-after SW Calgary community of West Springs. That's what you get when you choose Encore at West Grove Estates. Our homes are painstakingly crafted with elegance and quality at the forefront of everything we do. Because in the end, you deserve a home built just the way you want.
Get in Touch to Take the First Step Towards Finding Your Dream Home