Encore At West Grove Estates-A Great New Development To Call Home
/
/
Encore At West Grove Estates-A Great New Development To Call Home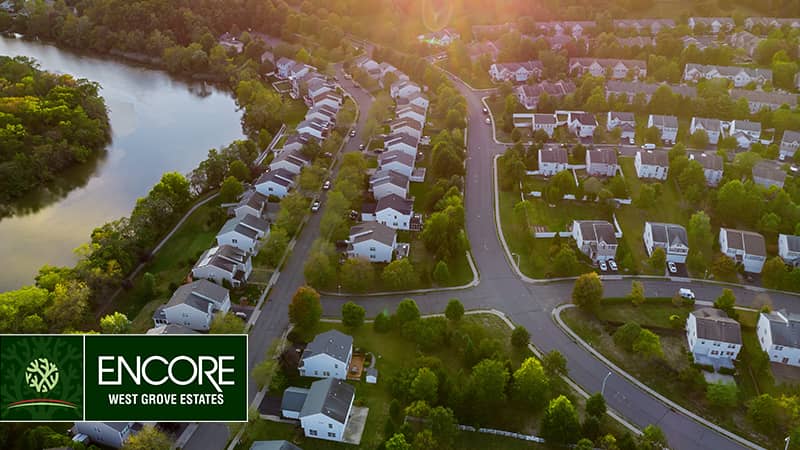 There's something for everyone in Encore at West Grove Estates. This area has been carefully cultivated to meet the needs of busy families, with amenities and opportunities abounding. With easy access to top of the line recreation facilities, quality schools and childcare, health and wellness centres, plentiful parks, pathways and greenspaces, shopping and dining, and transit, Encore has everything a family needs right at its front door. This vibrant and sought-after community of West Springs offers families easy, abundant, and accessible living in Calgary's west end. With semi-estate homes starting in the $700s, Encore at West Grove Estates offers more than just houses to live in, but a convenient and welcoming community to call home.
Recreation
The Westside Recreation Centre offers sport, leisure, and other recreational facilities for you and your family. With the numerous programs, events, and activities offered at Westside, you'll always have something to do! Just to the west, WinSport provides skiing, tubing, and skating for winter fun, and ziplining, minigolf, and mountain biking when the days warm up. If indoor sports are more of your speed, check out the nearby Calgary Gymnastics Centre.
If mountain recreation is calling you, Kananaskis, Canmore, and Banff are easily accessed by hopping on Highway 1, only about a 10 minute drive from West Grove.
Schools
Easy access to schools and childcare rank high for families. Your choices for schooling streams in the West Springs area include both the public and separate systems, but also private and specialized school programs like The Edge program for premier athletes and the Waldorf School with its focus on technology, art, and observation. West Springs is also close to daycares and out-of-school services. Recognized tutoring services and enhanced learning providers operate right within the community too. With access to academics from elementary through junior high and high school and nearby post-secondary institutions, your child can complete their entire educational journey, always close to home base.
Parks
There are plenty of year round outside activities to keep your family entertained and active. There are beautifully landscaped parks and local paths with connections to over 800km of regional pathways.The outdoor amenities at Encore at West Grove Estates were conceptualized to become spaces where neighbours can easily congregate. Takes full advantage of the natural greenspaces and playgrounds designed for children to safely play and build friendships.
Shops and Amenities
Encore at West Grove has easy and fast access to West 85th, Aspen Landing and several other shopping destinations. Get your essentials like groceries, medications, gas but also access the enhanced services available in West Springs such as boutique shopping, specialty food stores, and personal services like salons and spas. Medical and dental clinics and wellness providers are right here too.
Transportation
Encore at West Grove Estates provides easy suburban living with quick and convenient access to every quadrant of the city and the downtown core with several traffic arteries like Bow Trail, Glenmore Trail, and Sarcee and convenient transit service. The 69th Street and Sirocco CTrain stations have Park and Ride options and several bus routes connect throughout the neighbourhood. And when you have had enough of Calgary city living, as we mentioned already, in just 10 minutes you can be on the Trans Canada, heading west for Rocky Mountain adventures.
Find Your Cedergarden Home in West Grove
Home is more just just a place you sleep, it's the neighbourhood you choose that gives you the lifestyle you seek for your and your family. If you are seeking gracious semi-estate living in one of Calgary's most sought after new developments, Encore at West Grove Estates is the perfect choice for you. This idyllic neighbourhood is filled with meticulously crafted, customized homes reflective of the quality our building partner Cedarglen Homes is known for. This beautiful new development could be the most ideal place for your family to call home. To learn more or to view the stunning Cedarglen show homes at Encore, connect with the award winning team from Bri-Mor by filling out the contact form or by calling us at 1-403-250-5650.
There's no better time to move into a new semi-estate home in Encore in West Grove Estates.
FAQs
Q: How much are the semi-estate homes in Encore, West Springs?
A: Our semi-estate homes start in the mid $700s and reflect the quality standards our builder partner, Cedarglen Homes, is known for.
Q: How do I visit a showhome?
A: Click on this link to set up a private showing.
Q: Do the homes in Encore offer any advanced sustainability?
A: Cedarglen consistently builds homes that are at the top of government-backed EnerGuide standards, which is an official set of criteria that evaluates the energy efficiency and performance of a home. Learn more about home sustainability here.
Semi-estate homes built by an award-winning builder in the highly sought-after SW Calgary community of West Springs. That's what you get when you choose Encore at West Grove Estates. Our homes are painstakingly crafted with elegance and quality at the forefront of everything we do. Because in the end, you deserve a home built just the way you want.
Get in Touch to Take the First Step Towards Finding Your Dream Home