Visit The Cedarglen Showhomes In Encore at West Grove Estates
/
/
Visit The Cedarglen Showhomes In Encore at West Grove Estates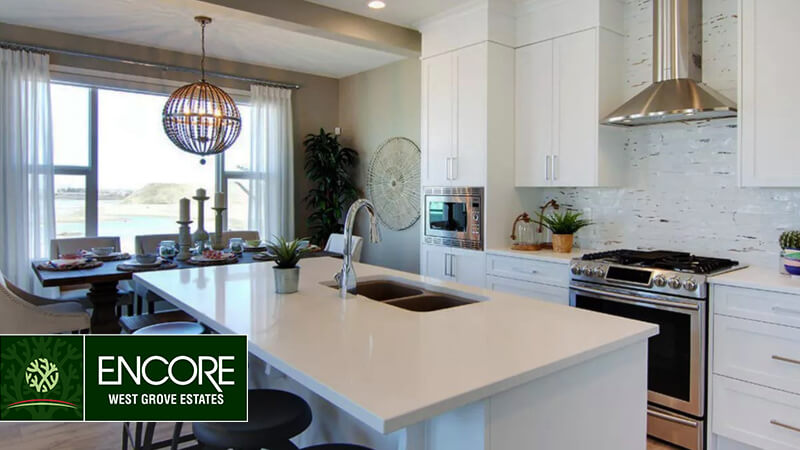 Nestled in a beautiful natural landscape, Encore at Westgrove Estates offers comfortable living in one of the most sought after communities in SW Calgary. This community offers wonderful outdoor spaces for you and your family to enjoy, including walking trails, parks, and easy access along Highway 1 to Kananaskis, Canmore, and Banff. There is an abundance of amenities including shops, restaurants, recreation, and top quality education resources nearby. Encore at Westgrove Estates offers top of the line Cedarglen Homes that are stylish, energy efficient, and can be customized so that you get the features you desire while completely personalizing the look of your home.
Customize And Enjoy Luxury Features
Cedarglen Homes in Encore at Westgrove Estates offer top-of-the-line features and a variety of customizable options. Create the home you've always dreamed of by taking advantage of the wonderful opportunity to design your new home to function perfectly for your family.
Outdoor Features
Imagine a space where you and your family can take advantage of summer days playing in the sprinklers during the heat or spending cool winter nights around a nice warm fire. Your yard can be the oasis of your choosing with Cedarglen's remarkable standard features and perks.
The $5,000 front yard landscaping allowance gives you the freedom to create an outdoor space that functions for your family. Choose to plant trees that will mature beautifully for privacy, a garden for the green thumb in your family, or a rock and water feature.
The exposed aggregate driveway & sidewalk that is standard with Cedarglen homes in Encore not only look great, they are also skid-resistant and durable, exactly what you want when the snow starts falling or melting during rapid Calgary weather changes.
For those who love a good summertime grill, the gas line to BBQ is the perfect feature. Forgetting to buy propane will no longer keep you from the perfect steak when your grill runs on natural gas.
Eco-Friendly Benefits
Going green isn't only great for the planet, it's great for reducing heating and electrical expenses year after year. If you dream of a healthier planet and a thicker wallet, these features are a must-have.
Triple paned windows. The added layers create more insulation, meaning you can keep out those cold Calgary winters and save money and energy by using less heating.
R-20 attic insulation minimizes the transfer of heat reducing heating and cooling bills and keeping your Cedarglen semi-estate home always at a comfortable temperature.
By outfitting homes with airtight electrical boxes that use self-sealing gaskets, Cedarglen prevents cold exterior air from infiltrating your home.
Tankless water heater systems provide hot water on demand only using energy
Attic and basement installation minimizes heat transfer, so you can have comfortable temperatures in every room of your house while paying less for heating.
95% high-efficiency furnace
The Kitchen Of Your Dreams
The kitchen is the heart of the home, so make it personal. Kitchens are where you bake cookies with your children and make dinner for your parents. It's where you start your day with breakfast and come home to after a long day of work. Make your kitchen just right by choosing the colours and features that allow you to not only function but enjoy this space.
With a $5,000 budget for cabinet upgrades and a $3,300 budget to upgrade to over and above our already high-grade standard appliance package, you can create a kitchen that works for you.
Engineered stone or granite countertops with undermount give a beautiful, streamlined profile, are easy to clean, and create a refined look to the space.
Bathrooms That Suits Your Daily Life
Bathrooms are one of the most practical rooms in the house, but they can be so much more than that. They can be an oasis offering a refreshing shower to start your day or a space to relax with a soothing soak in the tub. Cedarglen lets you customize every bathroom to meet your lifestyle needs and to fulfil your aesthetic goals.
Full height tile above shower and tub to 8' ft ceilings to give the shower an elegant look and make for easy cleaning.
Engineered stone or granite countertops with double undermount sinks in the bathrooms for a functional and finished look that is durable against any damages.
Exceptional Standard Features
Regardless of how you customize your home, you can feel confident that it will come with numerous high-quality features that are standard in every Cedarglen home. Features such as:
9 foot high ceilings that give the space an open and airy feel.
Your choice of luxury vinyl plank flooring or laminate. Vinyl plank flooring has recently boomed in popularity due to its refined look, complete waterproofing, and remarkable durability. It also looks similar to hardwood flooring and gives an elegant appearance. Laminate is also a wonderful option, as it is incredibly scratch-resistant and easy to clean.
Build Your Dream Home With Cedarglen Homes
It's not too late to build your customized Cedarglen Home! We have many coveted lots backing onto green space and on quiet side streets still available. There is still time to build your ideal dream home in Encore in the highly sought-after community of Westgrove Estates. Your path to homeownership includes the opportunity to completely customize your new home to reflect the tastes and lifestyle of your family. To explore your options for homeownership in Encore at West Grove Estates, call 1-403-250-5650 or fill out the contact form. There's no better time to move into a new semi-estate home in Encore in West Grove Estates.
FAQ
Q: Where is Encore at West Grove Estates located?
A: The semi-estate homes in Encore are bounded by Bow Trail SW to the south and 11 Avenue SW to the north. Check out our lot map to get a better idea of the neighbourhood.
Q: How much are the semi-estate homes in Encore, West Springs?
A: Our semi-estate homes start in the mid $700s and reflect the quality standards our builder partner, Cedarglen Homes, is known for.
Q: What other amenities are offered in Encore at West Grove Estates?
A: The community is close to multiple restaurants, educational institutions, health, fitness, and recreation centres, groceries, entertainment facilities, and more. To learn more about the area, read this article.
Semi-estate homes built by an award-winning builder in the highly sought-after SW Calgary community of West Springs. That's what you get when you choose Encore at West Grove Estates. Our homes are painstakingly crafted with elegance and quality at the forefront of everything we do. Because in the end, you deserve a home built just the way you want.
Get in Touch to Take the First Step Towards Finding Your Dream Home