Designing Your New Cedarglen Home: Top 2022 Countertop Trends
/
/
Designing Your New Cedarglen Home: Top 2022 Countertop Trends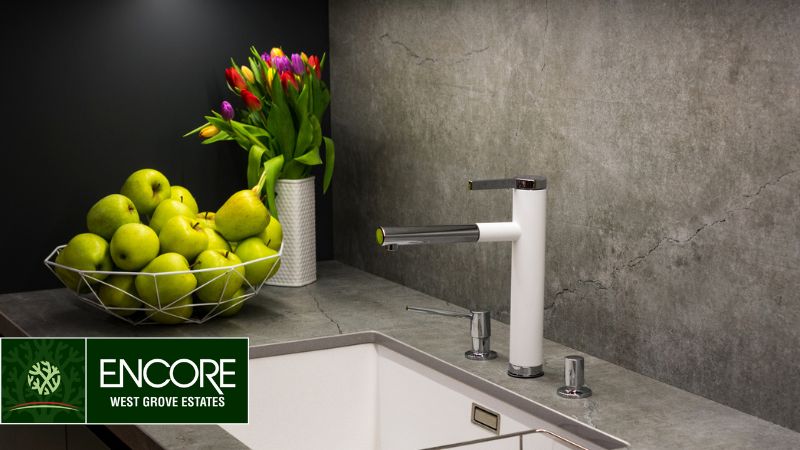 Countertops are essential to the design of your kitchen. They will dictate the colour and design of your backsplash as well as the colour of your walls and other accents. Choosing the right countertops for your space involves both your personal preferences and functionality for your lifestyle. If you are using the same countertops in other areas of your home such as in a bathroom or a nook, consider how it will work in these spaces as well as your kitchen. To help you figure out what countertops will add the perfect touch to your beautiful new Cedarglen home, check out these 6 hot countertop trends.
6 Countertop Trends
Classic Quartz
Quartz countertops give a similar look to granite but without the maintenance required of granite countertops. Quartz countertops are durable, easy to clean, stain-resistant, and low maintenance. This material offers a classic look similar to granite, with the same pattern of veining that offers movement while staying fairly neutral.

Different Finishings
Not everyone wants a shiny countertop. Textures in the home are a big trend right now and this can extend to your countertops. Honed surfaces offer a matte finish that can help to hide any scratches or imperfections that occur. The exact look of your honed surface will depend on the material of your countertops, but it will offer a smooth surface with low sheen. Leathered finish is another popular style right now. This texture subdues the ultra-reflective qualities countertops can often have and it helps to hide water spots and fingerprints, making it easier to maintain on a day-to-day basis.

Veining And Patterns
Veining is used to imitate natural rock such as marble. Unlike natural rock, modern countertops can be made with specialty veining and patterns so that you can choose the colour of your design as well as how prominent or subtle you want the veining. Despite these countertops being man-made, they look very natural. Veining and patterns give an elevated and elegant look to a space while also allowing for customization and creativity.

Oversized Sinks
These large sinks that extend to the edge of the countertop are not only coveted for their appearance, they are incredibly practical and make great use of the space available. With integrated sinks, the 2 or 3-inch strip of counter between yourself and the sink doesn't benefit you, instead taking up space. With oversized sinks, this added space can help you to fit more into the sink and make your washing easier. Pair your oversized sink with matte black, gold, or bronze faucets for a contemporary look.

Contrast
A dark countertop, particularly when paired with light cabinets, makes a bold statement while performing practical functions. When countertops are dark or black, it makes your plates, linens, and other accents stand out. The dark colouration also helps to give the space a sophisticated look while hiding imperfections that may develop over time. A bold and dramatic countertop makes your space more intentional and can create a sense of luxury.

Sustainable Materials
Eco-friendly homes are more than a trend, they are the way of the future. Using recycled and/or sustainable materials in your home can help reduce your carbon footprint, generate less waste, and give your home a great look. One of the most popular types of countertops right now uses recycled glass and cement to create a VOCs and plastic resin-free countertop. These recycled materials also add a sparkle to your home and come in a variety of colors, ranging from neutral to bold.
Customize Your Kitchen In A New Cedarglen Home In Encore
The Cedarglen homes in Encore are a great opportunity to customize a semi-estate home. You can tailor your kitchen and every room so that your house suits your style and needs, creating a functional and visually appealing space that you can proudly call home.
Encore is one of Calgary's newest SW developments; an idyllic neighbourhood filled with meticulously crafted, customized semi-estate homes, reflective of the quality Cedarglen Homes is known for. With beautiful views of the mountains, an array of green spaces, and close proximity to some of Calgary's best amenities, Encore at West Grove Estates is a great place to call home. To explore your options for home ownership in Encore at West Grove Estates, call 1-587-356-3032 or fill out the contact form. There's no better time to move into a new semi-estate home by Bri-mor at Encore in West Grove Estates at West Springs in SW Calgary.
FAQ
Q: How do I visit a showhome?
A: Click on this link to set up a private showing.

Q: What other design choices are trending for 2022?
A: Colour, sustainability, and function are just some of the elements driving design trends in 2022. Read more about current kitchen trends, new home building trends, and best choices for flooring.

Q: Where is Encore at West Grove Estates located?
A: The semi-estate homes in Encore are bounded by Bow Trail SW to the south and 11 Avenue SW to the north.
Semi-estate homes built by an award-winning builder in the highly sought-after SW Calgary community of West Springs. That's what you get when you choose Encore at West Grove Estates. Our homes are painstakingly crafted with elegance and quality at the forefront of everything we do. Because in the end, you deserve a home built just the way you want.
Get in Touch to Take the First Step Towards Finding Your Dream Home