Do You Love Our Encore Showhomes? Benefit From The Cedarglen Showhome Leaseback Program.
/
/
Do You Love Our Encore Showhomes? Benefit From The Cedarglen Showhome Leaseback Program.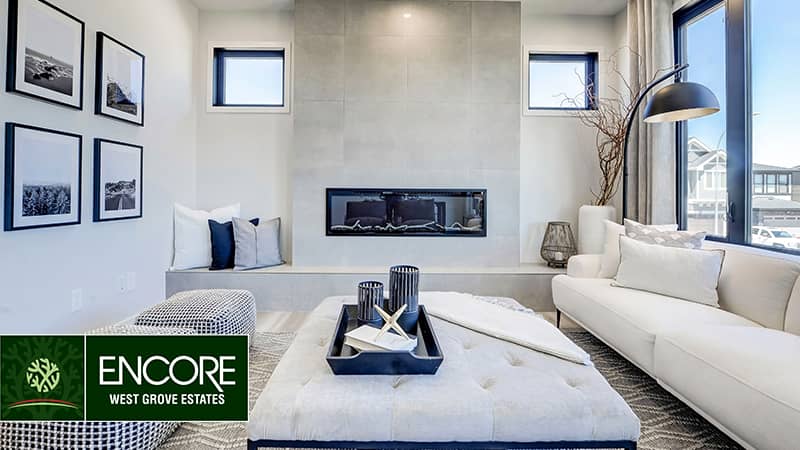 The Calgary real estate market is hot right now. It is a seller's market and that means buyers can find it more difficult to find the home of their dreams. In the highly sought-after community of Encore at West Grove Estates in West Springs, homes are a hot commodity. With only 9 lots remaining in this phase of development, people seeking the attractive pricing of Encore's semi-estate homes are scrambling to get in while they can. If you have visited the beautiful and meticulously-crafted Cedarglen showhomes in Encore and want to make this community the home base for your family, consider the Cedarglen Showhome Leaseback Program.
What Is A Showhome Leaseback Program?
When developers build a showhome in a new community it is meant to be a showcase for their craftsmanship and architecture. But it also becomes a sort of command centre for all of their sales and building operations. Showhomes are a vital component of a neighbourhood under development and they are often intended to remain open and active until the final lot has sold and the keys to the final home are passed to the new homebuyer.
The Cedarglen design team does such a phenomenal job creating homes that buyers want to live in, that the team is often asked by buyers if they can purchase the model home. We don't ever want to turn down an offer to purchase one of our award-winning homes, but the dilemma arises: we still need to use our showhomes for operations. The best solution? The Cedarglen Showhome Leaseback program allows an interested buyer to purchase the home and lease it back to us until we no longer need it as a sales centre.
The Benefits Of The Cedarglen Showhome Leaseback Program
In addition to purchasing the very home of your dreams, there are other benefits to this program.
We Pay Your Mortgage
Cedarglen lease payment can go towards your monthly mortgage payments for the duration of the leasing period so your costs are covered while we maintain operations.
We Are Great Tenants
Essentially your purchase is a real estate investment and we promise to take great care of your property as your tenants. We also ensure that when we pass your home over to you, it will be in a completely liveable state with all office and administrative spaces returned to their intended use and wear and tear refreshed.
Do You Need To Sell?
If you need to sell your current home, this arrangement offers an ideal grace period to prepare and list your home for sale without the stress and worry of carrying two mortgages or worse, having to make an offer to purchase conditional on the sale of your current home.
Upgrades Included
Our Cedarglen showhomes are designed with upgraded finishes and features that often cost extra for buyers customizing a new build. And for some buyers, the process of having to select every finish and make a large number of design choices is stressful. When you purchase a showhome you get a beautifully designed, fully-finished product, no fuss, no muss.
Do You Like What You See?
Beyond the top-of-the-line finishes and state-of-the-art features built into a Cedarglen showhome, our design team takes great care in selecting every couch, every dresser, every table, every knick knack, and every window covering to build a complex design story and evoke a feeling of home. If you like what you see, you have the opportunity to take possession of the showhome fully furnished so you can move in and sit back to enjoy your dream home right away.
Quality Guaranteed
Every Cedarglen home is covered by the Alberta New Home Warranty Program. This protects your investment form the day the showhome opens and extends through your ownership and possession as well.
Buy Your Dream Home With Cedarglen Homes Showhome Leaseback Program
If you have fallen in love with a Cedarglen showhome, dread the custom design process of a new build, and have a little patience, the Cedarglen Showhome Leaseback Program might be a great solution for you. Visit the showhome of your dreams and speak with our sales team about leaseback options in Encore at Westgrove Estates in SW Calgary.
Encore is one of Calgary's newest SW developments; an idyllic neighbourhood filled with meticulously crafted, customized semi-estate homes, reflective of the quality Cedarglen is known for. Whether you are looking to find a lot with some of the city's best views to build your new home or for a quick possession home in Encore, this community is Calgary's choice for new home developments. With beautiful views of the mountains, an array of green spaces, and close proximity to some of Calgary's best amenities, Encore at West Grove Estates is a great place to call home. To explore your options for home ownership in Encore at West Grove Estates, call 1-403-250-5650 or fill out the contact form. There's no better time to move into a new semi-estate home by Bri-mor at Encore in West Grove Estates at West Springs in SW Calgary.
FAQ
Q: How do I visit a showhome?
A: Click on this link to set up a private showing.
Q: Do the homes in Encore offer any advanced sustainability?
A: Cedarglen consistently builds homes that are at the top of government-backed EnerGuide standards, which is an official set of criteria that evaluates the energy efficiency and performance of a home. Learn more about home sustainability here.
Q: What other amenities are available in Encore at West Grove Estates?
A: The community is close to multiple restaurants, educational institutions, health, fitness, and recreation centres, groceries, entertainment facilities, and more. To learn more about the area, read this article.
Semi-estate homes built by an award-winning builder in the highly sought-after SW Calgary community of West Springs. That's what you get when you choose Encore at West Grove Estates. Our homes are painstakingly crafted with elegance and quality at the forefront of everything we do. Because in the end, you deserve a home built just the way you want.
Get in Touch to Take the First Step Towards Finding Your Dream Home