2022 New Build Bathroom Trends For Your Encore Home
/
/
2022 New Build Bathroom Trends For Your Encore Home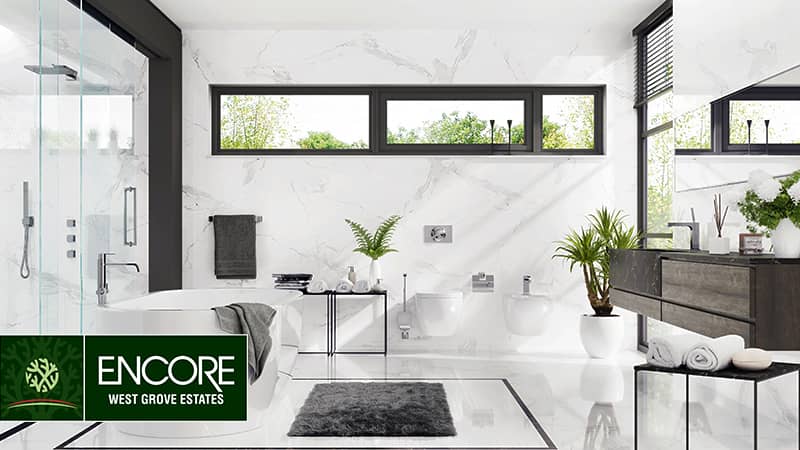 One of the most exciting things about a new build, semi-estate home in Encore at West Grove Estates in West Springs, is completely customizing it to the way your family lives and your own, personal design aesthetic. When you purchase a Cedarglen home, you have the opportunity to put your own touch on everything from exterior colour and flooring, to basement development and kitchen countertops. As you build your dream home in this idyllic neighbourhood, and you are ready to plan a bathroom composition that will serve your family for years to come, look to these 2022 bathroom trends for contemporary or timeless design options.
What Is Trending In Bathroom Design Right Now?
Wood
Just like the 70s trend of carpeting in the bathroom, wood flooring seems to go against common sense. But with the availability of water-resistant wood flooring, luxury vinyl plank flooring, and beautiful wood grain ceramic tiles, wood flooring in the bathroom is an unexpected option. Wood and wood grain finishes can warm up a space and impart a natural and organic feel to your space (another hot 2022 bathroom trend). If you still can't wrap your head around wood flooring in your bathroom, consider a teak shower floor insert.
Wallpaper
Wallpaper has fallen back into favour, and the bathroom is no exception. Choose a bold, statement pattern for a small powder room, impart a serene and spa-like feel with natural seagrass wall covering in your ensuite, or opt for a breathtaking mural to transport you to faraway places whenever you take a bath. Just make sure you choose a wallpaper product that is suitable for the more humid environment of your bathroom.
Float Away
Floating vanities, wall-mounted toilets, and cantilevered tubs will figuratively and literally elevate your bathroom design this year. Not only do these features make cleaning easier, but they lend a feeling of light and airy serenity.
Living Elements
Lots of natural light and humidity make your bathroom an ideal place to show off your green thumb. Plants reduce stress and anxiety, clean the air, absorb moisture, and add life to your bathroom space. Translate this conservatively with an abundance of potted tropicals, or go bold with built in marble planters or a living green wall.
Back To Nature
The move towards organic is all around us from our grocery store purchases to our clothing choices. Go organic in your bathroom design too by choosing elements with curving lines like egg-shaped tubs, natural stone, textured finishes inspired by water or soil, and nature-inspired colours like mossy greens, concrete greys, and clay browns. Accessorize with bunches of fragrant eucalyptus in your shower, natural fibre towels, and clean, pure hand soaps and bath salts.
The Splurge-One Statement Piece
When you are designing on a budget, you may not be able to afford every luxury finish you see in the bathroom showroom. Consider this… design choices like simple, white subway tile are affordable and can keep you on budget. Instead of going top-of-the-line for every finish, choose one element and make a bold, high-end statement. Splurge on the standalone tub of your dreams, the multifunction shower faucet system, the sparkling chandelier, or the state-of-the-art commode.
Encore at West Grove Estates: Quality New Builds With Cedarglen Homes
When you customize your new build in Encore at West Grove Estates you gain access to the Cedarglen Homes Studio 81 Design Centre. The talented Design Consultants will take you on a journey to select the fixtures and finishes to ensure that your bathroom and every room reflect your personal style and function perfectly for your family.
Encore is one of Calgary's newest SW developments; an idyllic neighbourhood filled with meticulously crafted, customized semi-estate homes, reflective of the quality Cedarglen is known for. Whether you are looking to find a lot with some of the city's best views to build your new home or for a quick possession home in Encore, this community is Calgary's choice for new home developments. With beautiful views of the mountains, an array of green spaces, and close proximity to some of Calgary's best amenities, Encore at West Grove Estates is a great place to call home. To explore your options for home ownership in Encore at West Grove Estates, call 1-403-250-5650 or fill out the contact form. There's no better time to move into a new semi-estate home by Bri-mor at Encore in West Grove Estates at West Springs in SW Calgary.
FAQ
Q: Where is Encore at West Grove Estates located?
A: The semi-estate homes in Encore are bounded by Bow Trail SW to the south and 11 Avenue SW to the north.
Q: What other design choices are trending for 2022?
A: Colour, sustainability, and function are just some of the elements driving design trends in 2022. Read more about current kitchen trends, new home building trends, and best choices for flooring.
Q: How often can I visit my home when it is under construction?
A: Site safety is the most important thing. Your construction team may be working on several projects at any given time and drop-ins could interrupt workflow and put you or the team at risk. If you want to visit your home under construction, connect with your Cedarglen team and they will schedule a time for you to visit. There is no limit to the number of times you can check the progress of your new build.
Semi-estate homes built by an award-winning builder in the highly sought-after SW Calgary community of West Springs. That's what you get when you choose Encore at West Grove Estates. Our homes are painstakingly crafted with elegance and quality at the forefront of everything we do. Because in the end, you deserve a home built just the way you want.
Get in Touch to Take the First Step Towards Finding Your Dream Home